Early Bird
MSU Denver lanyards now available
Students, faculty and staff who have returned to campus are asked to display their University ID cards.
October 14, 2020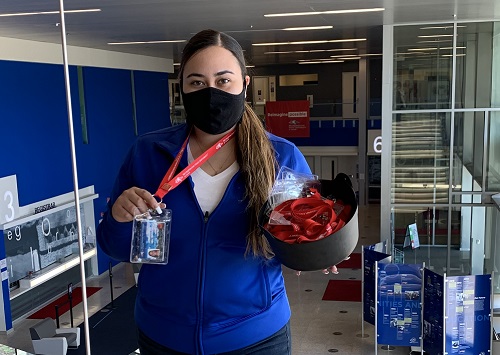 The Roadrunners Safe Return Committee is offering free Metropolitan State University of Denver-branded lanyards to faculty, staff and students. Roadrunners who have returned to campus are encouraged to use the lanyards to visibly display their University ID badges, per University protocols.
Lanyards are available to all Roadrunners by visiting the Crew in Blue at the Jordan Student Success Building Welcome Desk between 8 a.m. and 5 p.m. Monday through Friday.
Additionally, the JSSB Welcome Desk still has free face shields available for faculty members who are teaching on-campus courses this fall (or who anticipate teaching an on-campus course in spring) to use during face-to-face instruction. Faculty members must provide their name and University ID number to pick up a face shield or PPE kit.
The use of face shields aligns with MSU Denver's health and safety protocols. Faculty members are welcome to use face shields but should also continue practicing social distancing and other safety measures.
Topics: Health, Safety
Edit this page