Early Bird
Updates on dean searches
Learn more about the recruitment process for new deans of the Colleges of Letters, Arts and Sciences and Health and Applied Sciences.
October 14, 2020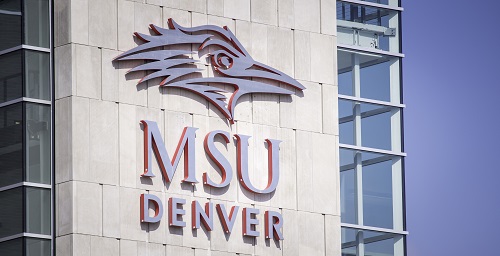 Metropolitan State University of Denver is actively recruiting top candidates for dean positions within the Colleges of Letters, Arts and Sciences and Health and Applied Sciences. These positions are critical to MSU Denver's continued academic leadership and excellence, and all members of the campus community are encouraged to support the search processes.
As the dean positions focus on vastly different areas of academic expertise, the searches will be conducted separately by two search committees. Human Resources has begun assembling members for both committees and will share committee membership with the University community soon. To adhere to the University's value of inclusive leadership and to honor efforts to reduce expenses, MSU Denver will manage both searches in-house and will not work with a search firm.
As announced in Monday's Early Bird, Roadrunners are invited to engage in dean searches (as well as the search for MSU Denver's new provost) through the Employee Referral Program. The pilot program, coordinated through Human Resources, is aimed at engaging Roadrunners in the executive-level recruitment process and helping to attract a talented and diverse candidate pool. Roadrunners who refer final-round candidates will receive a $250 incentive for their contribution to the process.
The Human Resources team is using this pilot program to develop a formal referral program. Executive-level searches that occur after the pilot phase will include incentives only for employees who refer the candidate who is ultimately hired. Future executive-level searches will not be considered part of the pilot program.
Please note that the pilot Employee Referral Program applies to all Metropolitan State University of Denver employees on payroll, with the following exceptions:
Human Resources employees
Contractors
Search Committee Members serving on the search for which the referral is being made
Senior Leadership
Eligible referrals must be received before final-round interviews are announced.
To make a referral, complete the MSU Denver Employee Referral Program Form.
To learn more about the dean searches, please stay tuned to the Early Bird.
Topics: Academics, Community, Hiring, Inclusive leadership
Edit this page