Early Bird
Helpful info for faculty and students
There is still time to participate in an important course-marking pilot initiative.
October 13, 2020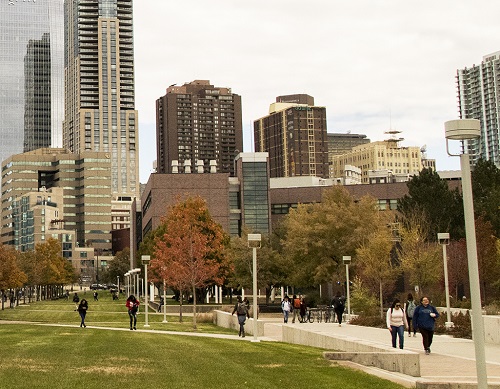 Metropolitan State University of Denver is running a pilot course-marking initiative for the spring 2021 course schedule. The pilot initiative will help students identify courses with no-cost or low-cost materials according to attributes in the class scheduler.
One attribute will be available for courses with no cost for materials, and a second attribute will mark courses with $40 or less in materials costs (low cost for materials). Faculty members teaching any course that meets these designations are asked to fill out the Spring 2021 Low- and No-Cost for Materials Survey. Most faculty members complete the survey in about three minutes. The survey requires the CRN and/or section number for the courses and, if applicable, a link to any primary Open Educational Resources used.
Faculty members are encouraged to add their course information as soon as possible, as students begin enrolling for the spring semester Oct. 26.
A survey of MSU Denver students last year found that 56% of students had chosen not to purchase textbooks due to cost, 30% had taken fewer courses and 12% had dropped courses due to the added cost of materials. The challenge of textbook costs is in part because textbook costs increased by 200% between 1997 and 2018, a time when the overall inflation rate was 57%.
MSU Denver faculty members have a long history of thoughtfully considering and compiling resourses to use in their classrooms, including library- and instructor-generated resources. Over the past few years, and with the support of $136,000 in grant funds from the state, more faculty members have transitioned to high-quality Open Educational Resources. Recognizing the value to students in identifying courses with lower materials costs at the time of registration, the Colorado House bill that provided grant funding for OER initiatives also stipulated that "beginning in the fall of 2021, students are informed prior to course registration concerning which courses and sections use open educational resources or other low-cost materials."
If you have any questions, reach out to Emily Ragan, associate professor in the Department of Chemistry and Biochemistry and chair of the OER Taskforce, at eragan@msudenver.edu.
Topics: Access, Excellence, OER, Open Educational Resources, Student Success
Edit this page