Early Bird
MSU Denver and you … a perfect pair!
The second annual Socktober giving event begins today.
October 1, 2020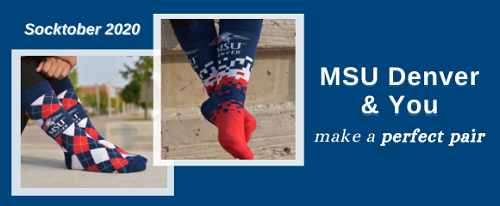 Socktober is back!
Starting today, Roadrunners can keep their toes warm and support students by making a gift during Socktober – otherwise known as October.
When you make a gift of $25 ($15 is tax-deductible) to the Student Emergency Fund, the Dreamer Emergency Fund or the Roadrunner Food Pantry during Socktober, you will receive one pair of limited-edition Metropolitan State University of Denver socks and one pair of socks will be donated to a student in need. This year, there are two sock designs to choose from and special packages that include last year's inaugural design for donors who start a recurring gift.
Thanks to the generosity of our Roadrunner family during last year's Socktober event, we raised more than $14,000 for the Student Emergency Fund and donated 460 pairs of socks. This year, the impact of COVID-19 makes your support more critical than ever. Since March, the Student Emergency Fund has experienced a 1,300% increase in applications, and the Roadrunner Food Pantry has assisted more than 500 students experiencing food insecurity.
When you wear your Roadrunner pride from head to toe this Socktober, we can continue to offer our students the assistance they need to succeed during difficult times.
Roadrunners warming the hearts and toes of fellow Roadrunners. That's possible here.
For more information about making a gift to the Student or Dreamer Emergency Fund or the Food Pantry, contact Bre Milnes, director of annual giving. To learn more about the Student Emergency Fund, the Dreamer Emergency Fund and the Roadrunner Food Pantry, contact the MSU Denver CARE Team.
Topics: Advancement, Alumni, Community, Events, Excellence
Edit this page