Early Bird
Announcing this week's Roadrunner Shoutout winners
These dedicated faculty, staff and student employees are shining examples of dedication, innovation and excellence.
October 1, 2020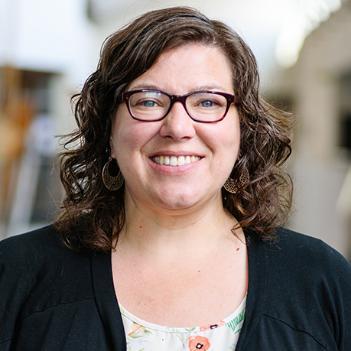 In the past week, dozens of heartfelt nominations have poured in for Metropolitan State University of Denver's new Roadrunner Shoutout award, highlighting the excellent and important work happening at all levels of the University.
"Faculty, staff and student nominators have shared wonderful words about their colleagues, and narrowing the field was a true challenge," said President Janine Davidson, Ph.D. "Our first award winners embody the Roadrunner spirit. Their hard work and dedication are commendable, and their contributions are inspiring."
Please join President Davidson in congratulating this week's Roadrunner Shoutout winners:
Faculty winner - Elizabeth Macy, Ph.D., assistant professor, Music
Nominated by Peter Schimpf, Ph.D., chair, Department of Music, who wrote:
"Dr. Liz Macy has organized, developed and promoted the Department of Music's 'Music, Race and Social Justice' virtual series for the fall semester, co-sponsored by the Office of Diversity and Inclusion. The series features a wide range of musicians representing a diverse array of styles and perspectives. Each musician/speaker in this series uses their art to address social-justice issues. In the absence of live events, this series helps fill the space left open by the pandemic, while also addressing urgent, critical issues in creative and vibrant ways. Liz's tireless efforts to bring this series to our students shows a strong desire to engage our campus in critical discussion through the medium of our discipline."
Congratulations, Liz. Thank you for your support of MSU Denver's diversity-and-inclusion efforts as well as your work to offer new perspectives and learning experiences to our students. Your extra efforts bring so much value to your department and to the University.
Staff/administrator winner - David Sharman, learning-spaces specialist, Information Technology Services
Nominated by Brian Gunther, technical-process and communications manager, School of Education, who wrote:
"David is very thoughtful, knowledgeable, helpful and always willing to make time to support his peers across the University with multimedia projects. He was instrumental in developing the virtual arrangement for a recent movie screening and panel-discussion livestream event for the School of Education with an RSVP list of more than 200 people. The event went off without a hitch, and his work made it seem as though we'd done it 100 times before. He spent weeks in advance planning with us, responding to questions, testing with us and otherwise ensuring that everyone involved was prepared and comfortable with the process. He managed the livestream and Teams components for the event as well, hanging with us until the event ended at 8 p.m. (and getting a recording ready for us by the next morning). This is just one small example of David's commitment to his work. Having worked with him for several years now, he has always been available and willing to offer advice and support. In a time when our needs for support in a virtual environment are at an all-time high, there has never been a more appropriate time to recognize those who go above and beyond to keep us operational and make us look good. I'm not sure if David has been recognized recently, but if not, he is certainly due!"
Thank you for your tireless service to MSU Denver, David. As the University works hard to maintain the same high level of communication, collaboration and events, your support, knowledge and generosity of spirit have been invaluable.
Student-employee winner - Victoria Gratton, assistant, Office of the President
Nominated by Cathy Lucas, vice president of Strategy and External Affairs, who wrote:
"Victoria Gratton goes above and beyond in her work, approaching every task with a smile and a positive attitude. She is a joy to work with and brings a very high level of responsibility and focus to her role, tirelessly supporting presidential events and briefings, organizing calendars, and preparing binders, paperwork and notes. Her high performance has earned recognition from several members of the Senior Leadership Team, who have all been very impressed by her organization and professionalism. No job is too big or too small for her, and she tackles them all with the best attitude. She is invaluable, and she truly brightens everyone's day."
Well done on your multiple nominations, Victoria. Balancing education and work is a challenge, and your ability to excel in both areas is commendable. Your integrity, dedication and hard work are greatly appreciated, and we know you'll go far.
To nominate outstanding employees for the Roadrunner Shoutout series, please complete the form on the Roadrunner Shoutout webpage. Tell us how your nominee is making an impact through great teaching, service to students or innovation. Winners will be selected each week and profiled in the Early Bird on Thursdays. Winners will also get a shout out on social media.
Topics: Award, Community, Excellence, Roadrunner Shoutout
Edit this page