Early Bird
Professor's Room: Chereka C. Dickerson, Ph.D.
An occasional series that explores the inner sanctums of academia – because clever people have interesting spaces.
January 29, 2020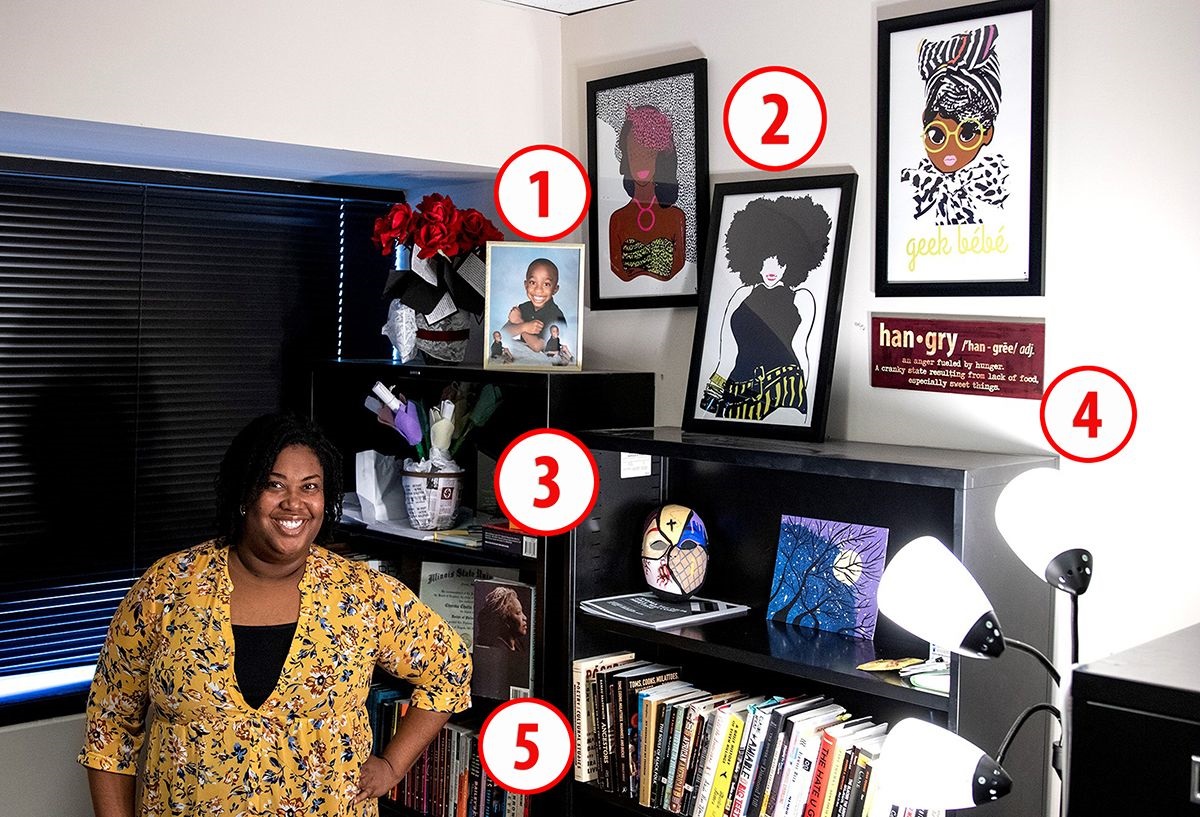 Chereka Dickerson, Ph.D., is no stranger to the zigzaggy path many Metropolitan State University of Denver students experience before joining the Roadrunner family. Before discovering her passion for literature, the assistant professor of English earned a bachelor's degree in business and took time off before graduate school to work in her family's restaurant business. However, a lack of representation in higher education led her to become a professor.
"As an undergrad, I never had any black professors, and I found it difficult to fully express myself," Dickerson said. "I resolved that I could make a change and be the black woman at the front of the classroom for the young black women attempting to navigate their way through college."
Step into her office in the King Center to learn about the items and beautiful art that elevates her day.
1. These photos of my son encourage me. His contagious smile helps me when I feel frustrated, and seeing it helps me get through days when I have to be away from him. It melts my heart to see his smile and reminds me to hurry up and get home.
2. For a very long time, I wore my hair in an afro, and people often noticed my hair and makeup first. And so I wanted artwork that stuck out and said, "Look at me – I'm a black woman!" This art features black women with afros, full figures, full lips – and full hair. I feel like they are a reflection of me.
3. Some semesters, I ask upper-division students to explore the creative process by making multimodal projects combining art and literature so they write something and produce something. It allows students to make themselves the center of the project. Both students who created these bouquets wanted their art pieces to look pretty on the outside while the stories on the inside were not so pretty. They both had the idea that looks can be deceiving. English students will often choose poems or creative writing, so I like projects that are outside of their normal creative realm.
4. I picked up these signs with clever sayings at a craft store because they really describe my personality and reflect my sarcasm, which is my second language! I have "hangry," "just sayin'" and "it is what it is." They are a reminder that we do what we can, it is what it is, get done what you can get done and don't feel bad about it. I also say "just saying" a lot to punctuate things.
5. I teach Toni Morrison's books in my classes, so I have her complete works. She talks about issues that affect black women's lives and is a tough author to teach because she doesn't deal with the pretty topics – or sugarcoat the ugly ones. I also teach multicultural literature, and issues that black women deal with in life – like racism and sexism – come up a lot.
If your faculty colleagues surround themselves with outrageous objects, alluring artwork or noteworthy knickknacks, please email earlybirdeditor@msudenver.edu with the subject line "Professor's Room" to see them featured (or to nominate yourself).
Topics: Community, Professor's Room
Edit this page