Early Bird
Career Connections: highlights from the C2 Hub
Career Lab nearly doubles service to students, aims to do even more with referrals from faculty and staff.
January 28, 2020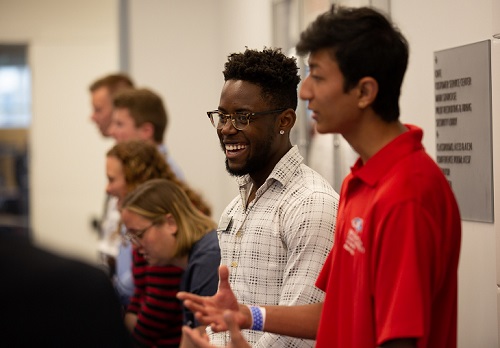 This new monthly series gives faculty and staff an inside look at the latest happenings in the Classroom to Career Hub.
The Career Lab has taken student career support to the next level. Launched last semester, the lab substantially expanded drop-in services and, as a result, nearly doubled the number of students served.
The latest innovation from Metropolitan State University of Denver's Classroom to Career Hub increased drop-in access for students without an appointment from 5 to 15 hours per week last fall.
"The flexibility gives our students access to career advisors on their own schedules," said Bridgette Coble, Ph.D., a director in the C2 Hub. "It's a good example of how we are meeting students where they are in their busy lives."
Coble said that besides chatting with a career advisor, the Career Lab is a place where students can get connected with digital job-search tools and access resources such as assistance with cover letters and résumés, interview prep and tips for salary negotiation.
Students are clearly excited by the expanded services. During the fall semester, the Career Lab served 465 drop-in students, compared with an annual average of 200-300 in past years. The lab is on track to triple that average this year and easily bypass the previous record high of 630 drop-in students at Career Services.
The lab can serve even more students with referrals from faculty and staff. Let your students know about the new hours this spring.
Monday, 1-3 p.m.
Tuesday, 10 a.m.-1 p.m.
Wednesday, 10 a.m.-2 p.m.
Thursday, 1:30-5:30 p.m.
Friday, 10 a.m.-noon
And check out this list of career-focused events to share with your students this semester.
Topics: C2 Hub, Classroom to Career Hub, Community, Excellence, Innovation, Student Success
Edit this page