Early Bird
Register today for Crucial Conversations
Learn to speak persuasively, foster teamwork and more at two March trainings.
January 28, 2020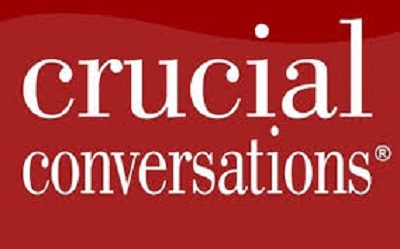 Learn how to manage high-stakes conversations, varying opinions and strong emotions using the skills of the world's best communicators with Crucial Conversations training.
Crucial Conversations teaches skills for creating alignment and agreement by fostering open dialogue around high-stakes, emotional or risky topics at all levels of an organization. By learning how to speak and be heard (and encouraging others to do the same), participants can create space for the best ideas, make the highest-quality decisions and then act on decisions with unity and commitment.
The two-day Crucial Conversations training teaches participants how to:
Speak persuasively, not abrasively
Foster teamwork and better decision-making
Build acceptance rather than resistance
Resolve individual and group disagreements
Event details:
March 6 and March 13

8 a.m.-5 p.m.

Aerospace and Engineering Sciences Building 210
Participants are advised to be engaged and present for both days as the class builds on knowledge consecutively. Participants who register for March 6 will be registered automatically for March 13. Please double-check your availability before signing up, as it is critical to attend both days in their entirety.
Breakfast, lunch, snacks and beverages will be provided. Please contact the Crucial Conversations team at profdev@msudenver.edu with any requests for dietary accommodations.
Topics: Community, Events, Excellence, Human Resources, Learning and development, Professional development
Edit this page