Early Bird
Monthly EcoPass rate to increase to $38 on March 1
Learn more about renewing your pass, enrolling in the program and new payroll-tax options.
January 15, 2020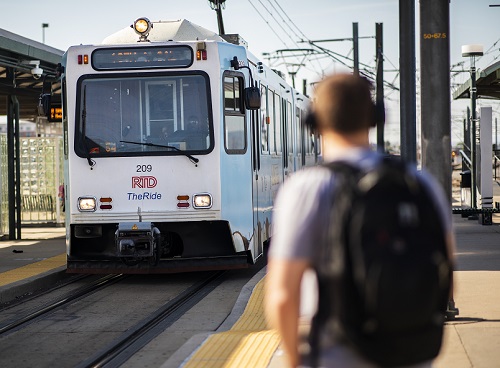 Metropolitan State University of Denver and the Auraria Higher Education Center are proud to participate in the RTD Employee EcoPass program. The monthly pass offers University employees an affordable, environmentally sustainable way to commute as well as unlimited rides on all local, regional and airport bus and rail services (including the Flatiron Flyer, SkyRide and the University of Colorado A Line).
This year, the program will see a cost increase from $28 to $38 per month, reflected in employees' February paychecks. When purchased individually through RTD, local passes cost $114 and regional/airport passes are $200.
RTD reports that the cost increase is based on ridership volume. Organizations participating in the EcoPass program used to pay a flat fee based on their number of employees. Recently, however, RTD has shifted its pricing structure to include "swipe" data collected on buses and light rail. Data showed that MSU Denver and Auraria Campus employees are heavy RTD users, and the discount rate has been adjusted accordingly.
How to renew your Employee EcoPass:
Employees already enrolled in the Employee EcoPass program must renew their pass to continue in the program. Please submit a new signed and dated to the Parking and Transportation Services office on the first floor of the 7th Street Garage (777 Lawrence Way) by Jan. 22.
How to enroll in the Employee EcoPass program:
New participants must enroll in person at the Parking and Transportation Services office on the first floor of the 7th Street Garage (777 Lawrence Way).
Changes in the pretax option for EcoPass and parking deductions:
Effective Dec. 20, 2019, President Donald Trump signed the Taxpayer Certainty and Disaster Tax Relief Act. This legislation reversed exempted organizations' tax liability for qualified transportation expenses. Therefore, effective immediately, all EcoPass and campus parking expenses deducted from employee payroll can be charged pretax or post-tax. Having this expense taken out pretax results in a lower tax liability, as it reduces the amount of income on which taxes are paid. This can lead to a slight increase on your monthly payroll. When you fill out the new EcoPass paperwork, be sure to indicate your pre- or post-tax payroll-deduction preference.
If you have questions about the Employee EcoPass program, please contact the AHEC Parking and Transportation Services team at 303-556-2003. The MSU Denver Payroll team is also available for questions on how to change your parking deduction to pretax at 303-615-0039.
Topics: AHEC, Denver
Edit this page