Early Bird
Building our 'preferred future'
Strategic Planning Vision Conference attendees review concept papers, collaborate on draft vision statements.
October 2, 2019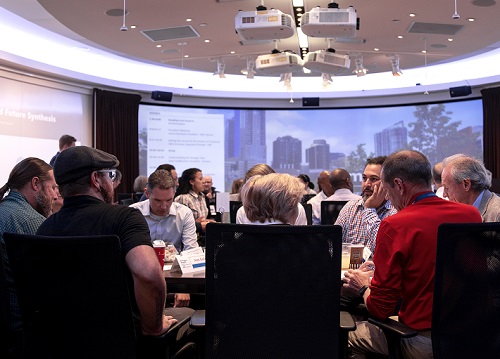 More than 60 people turned out for the daylong Strategic Planning Vision Conference on Sept. 23. Participants included key University community members and local luminaries such as a state representative and the vice president of economic development for the Downtown Denver Partnership.
Their shared goal? To collaborate on the critical next step in the strategic-planning process for Metropolitan State University of Denver.
President Janine Davidson, Ph.D., began with a brief introduction, emphasizing the importance of the process for the future of the institution and its students. "We've been saying that students can bring their zig-zaggy lives here," she said. "Now, we need to operationalize that."
She also noted that higher education is at a critical moment and that the plan would need to be fluid enough to adapt to changes in the field.
Participants reviewed four concept papers prepared by the Strategic Planning Team. Those papers were based on feedback from more than 1,500 campus and community constituents and are now available to read on the Strategic Plan 2025 website.
In break-out groups, members were asked to reach consensus on which ideas from the papers were most critical to the future of the institution. Once 15-25 critical themes were identified, the teams were asked to develop "preferred future" statements. Every member needed to agree on the final statements before they were shared with the larger group.
"The conference was extremely collaborative," said SPT co-chair Cathy Lucas, vice president of strategy and chief of staff. "You could really feel people from every part of our community coming together to play their part in helping shape the future of the University."
The "preferred future" statements will continue to be refined over the coming weeks, and ultimately, be available for public comment on the strategic-planning website. Stay tuned to the Early Bird for an announcement and other updates.
Topics: Community, President Davidson, Strategic Planning
Edit this page