Early Bird
Latest on Strategic Plan 2025
Thousands of ideas synthesized into five themes; concept papers to be shared for feedback in late September.
September 16, 2019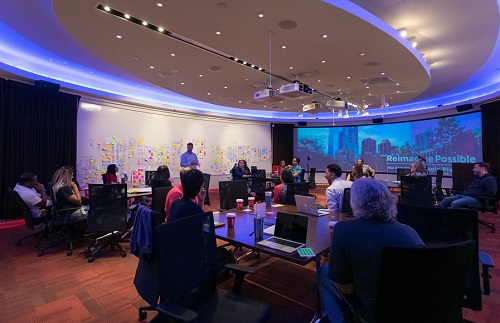 Over the past several months, the Strategic Planning Team collected more than 5,000 ideas about the future of Metropolitan State University of Denver. Those ideas came from roundtable discussions, town-hall meetings, focus groups and digital surveys. All told, more than 1,500 people have engaged in the planning process thus far, including faculty, staff, students, alumni, past and current trustees, business leaders, prospective students and parents.
"There has been a lot of excitement around this effort, and we are so grateful to everyone who shared their thoughts and ideas," said Cathy Lucas, vice president of Strategy and co-lead of the planning process. "We still have a lot of work to do, but I am inspired by how many people feel a strong sense of ownership around the future of our University."
This summer, members of the SPT visited aspirational peer university San Jose State, where they met with leaders to discuss best practices at the like-minded institution. A subcommittee of the SPT also took a deep dive into future trends, examining the challenges and opportunities facing MSU Denver over the next five to 10 years.
With all of this information in hand, the SPT met twice in August to consolidate feedback into five high-level strategic themes. The themes center on excellence in academic practices; infrastructure and operations; innovation; a welcoming, inclusive campus; and student success.
"These themes truly reflect what we heard from the MSU Denver community," said Matt Makley, professor of history and co-lead of the planning process. "And all of them are tied back to why we do this work in the first place – students."
Each of the five themes was developed in further detail via concept papers, which will be presented to senior leadership, board members and community partners at a Vision Conference on Sept. 23. The themes will be fine-tuned based on that meeting and then shared with the entire University community for feedback in late September. They'll be posted on the Strategic Plan 2025 website, where any member of the community will be able to comment.
Stay tuned to the Early Bird for updates on when the papers post and be sure to share your feedback.
Topics: Strategic Planning
Edit this page