Early Bird
Tickets now on sale for TEDx MSU Denver
Spend a day considering big ideas from University faculty, students and alumni Sept. 12.
July 15, 2019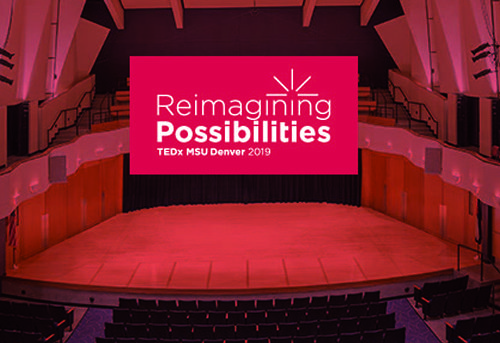 You've heard about TEDx MSU Denver. You've seen the list of speakers and performers. Now you can officially purchase your ticket for the daylong event Sept. 12.
Reimagining Possibilities

TEDx MSU Denver

Sept. 12

10 a.m.-5 p.m.

King Center Concert Hall
"Reimagining Possibilities" will feature 17 TED talks and two performances from members of the Metropolitan State University of Denver community. That includes eight faculty members, three alumni, multiple students and even President Janine Davidson, Ph.D.
Here are a few of the "big ideas" you'll be asked to consider at TEDx MSU Denver:
Should free speech ever be limited?
What are the benefits of anarchy?
Should humans be living in space right now?
Are companies passing on great talent because of old-fashioned stereotypes?
Why does higher education ask students to adapt without ever adapting itself?
Tickets cost $40 for general admission, which includes lunch and snacks. Students get a discounted rate of $20.
To accommodate those faculty members and students whose schedules will prevent them from attending the full-day program, the planning committee intends to organize viewing parties that will allow people to drop in throughout the day. More info to come on those soon.
For staff planning to attend, please be sure to check with your supervisor prior to purchasing a ticket.
Topics: Community, Events, Excellence, TEDxMSU Denver
Edit this page