Early Bird
Speakers announced for TEDx MSU Denver
Sept. 12 event to feature eight faculty members, three alumni, multiple students and one very recognizable university president.
July 10, 2019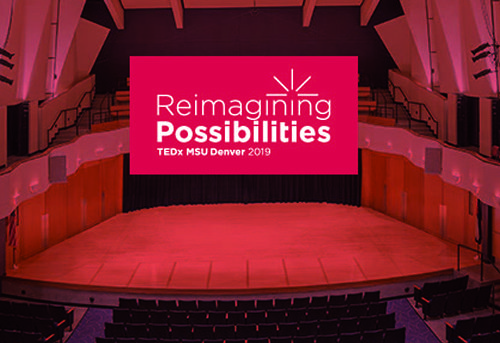 Roadrunners answered the call. More than 100 members of the Metropolitan State University of Denver community submitted applications to speak or perform at TEDx MSU Denver on Sept. 12.
"The interest was extraordinary," said Cathy Lucas, vice president of strategy and University lead for the signature event. "There were so many great pitches, and the selection committee had to make some very tough decisions."
The committee ultimately settled on 17 TED talks and two performances. Presenters will share their big ideas on topics as diverse as the limits of free speech in today's political climate and the case for why human beings should start leaving Earth for space right now. The two performances will feature MSU Denver students.
Tickets for the daylong event will go on sale next week. The Early Bird will have all the information you need to spend the day supporting your colleagues and current and former students.
To accommodate faculty members and students whose schedules will prevent them from attending the program, the planning committee intends to organize viewing parties that will allow people to drop in throughout the day. More info to come on those soon. For staff planning to attend, please be sure to check with your supervisor prior to purchasing a ticket.
Speakers
Senior leadership
Janine Davidson, Ph.D., president
Faculty
David Bechtold, Ph.D., associate professor, Management
Charlie Buckley, Ph.D., assistant professor of special education, and Jo Buckley, bilingual paraprofessional
Katia Campbell, Ph.D., associate professor, Communications Studies
Ivo Georgiev, Ph.D., affiliate faculty, Computer Engineering
Dave Gingerich, affiliate faculty, Aviation and Aerospace Science
Travis Heath, Ph.D., associate professor, Psychological Sciences
Katrina Little, lecturer, Nursing
Emily Ragan, Ph.D., associate professor, Chemistry and Biochemistry
Students and alumni
William Anderson (B.A. history, '08)
Matthew Candelaria and Colton Lee, current students
Katrina Chaffin, current student
Tyler Kingsbury (B.S. biology, '19)
Emily Yetzbacher (B.S. social work, '17)
Community members
Kristen Blessman, president and CEO, Colorado Women's Chamber of Commerce
Heather L. Bulk, CEO, Special Aerospace Services
Carrie Morgridge, vice president, Morgridge Family Foundation
Entertainers
Student dance group led by Nicole Predki, lecturer, Human Performance and Sport
Student band Tonguebyte
Topics: Events, TEDxMSU Denver
Edit this page