Early Bird
MSU Denver faculty in the media
Members share their expertise with the community.
February 9, 2022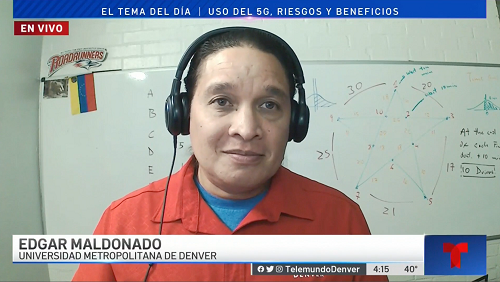 The Metropolitan State University of Denver faculty brain trust reaches almost every point on the academic spectrum, and we are always proud to see Roadrunners sharing their knowledge. Each month, the Early Bird highlights a few faculty members who have served as subject-matter experts on timely news topics, providing dynamic perspectives on critical issues.
Here's a sampling from January:
Edgar Maldonado, Ph.D., associate professor of Computer Information Systems, interviewed with Telemundo Denver about the nationwide 5G rollout and concerns that it could affect aircraft technology and airline-industry operations.
Lauren Gifford, Ph.D., affiliate professor of Geography, interviewed with KUNC Public Radio about how climate change is hitting close to home with recent impacts such as the Marshall fire.
Aaron Richmond, Ph.D., professor of Psychological Sciences, interviewed with Slate Magazine about how professors can get students to engage with syllabi by providing a more "learner-centered" approach that outlines their pathway to success in class.
Shawn Worthy, Ph.D., professor of Human Services and Counseling, interviewed on Fox31 and CW2 about the possibility of quarterback Aaron Rodgers coming to Denver after the hiring of new Broncos head coach Nathaniel Hackett.
Norman Provizer, Ph.D., professor of Political Science, spoke with 9News about the retirement of Supreme Court Justice Stephen Breyer and what type of candidate the Biden administration might choose as his successor.
Jackson Lamb, M.B.A., professor of Culinary Management, interviewed with Westword about how restaurant tipping has evolved in recent years and how consumers need to better understand the challenges caused by the pandemic.
For a full list of faculty members featured as experts in the media, visit MSU Denver in the News.
Topics: Academics, Excellence, Experts in the Media
Edit this page