Early Bird
Legacies of justice
39th annual Black World Conference focuses on Afrofuturism and connecting lived experiences with imagined possibilities.
February 8, 2022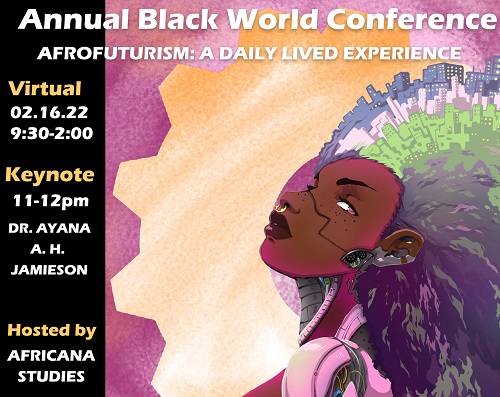 Extending beyond the action of Marvel's Black Panther, Afrofuturism is a representation of Black people and communities in a corresponding vision of the future, said Devon Wright, Ph.D., assistant professor, Africana Studies at Metropolitan State University of Denver.
"It's about being in control of your destiny," he said. "The main thing is reclaiming a sense of liberation and legacy of justice within systems defined by white supremacy."
That will be one of the topics at the 39th Annual Black World Conference on Feb. 16 from 9:30 a.m. to 2 p.m. via Zoom. This year's theme for the conference, "Afrofuturism: A Daily Lived Experience," includes visual and interdisciplinary arts as well as the groundbreaking work of renowned science-fiction writer Octavia Butler. The latter will be explored in depth by keynote speaker Ayana A.H. Jamieson, Ph.D., of CSU Pomona and founder of the Octavia Butler Legacy Network.
As a scholar specializing in Black social movements, Wright emphasized the role of Afrofuturism against the "emotional gut punch" of the parallel pandemics experienced by many communities in the past two years.
"One cannot help but take a moment to sit and imagine something beyond the misery and limitations of now, and Black creative figures are crucially important in that process," he said. "The convergence of academic study with popular culture gives us a jumping-off point to explore it further."
Wright built on the conference-planning work of fellow Africana Studies faculty member Ella Maria Ray and noted her interpretation of Afrofuturism as casting a wide net, stretching both forward and back throughout history.
"Looking through that lens, you can see all Black social movements since the first slave arrived as inherently Afrofuturist," Wright said. "The lived experiences of right now are the imagined experiences of past generations."
The 39th Annual Black World Conference takes place virtually Feb. 16 from 9:30 a.m. to 2 p.m. via this Zoom link.
No RSVP is required.
Topics: Events
Edit this page