Early Bird
Meet MSU Denver's new director of strategy
Christopher Peña will focus on promoting a culture of inclusive, data-informed decision-making and converting plans into action.
February 7, 2022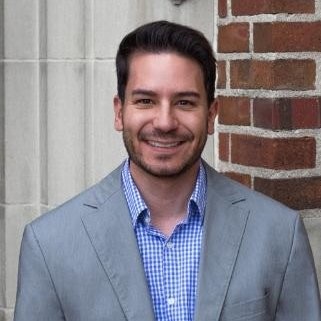 Christopher Peña joined Metropolitan State University of Denver in January as director of the new Office of Strategy. Peña, who will report to Chief Strategy Officer Kelly Brough, will help implement MSU Denver's 2030 Strategic Plan, ensure that the University's operations are aligned with its goals and develop and strengthen external partnerships.
Peña is a first-generation college student from Katy, Texas, who has 20 years of experience in higher-education administration. He comes to MSU Denver from the University of Denver, where he worked for 12 years in institutional research and analysis and data management, driven by his belief "in the power of education to transform lives, strengthen communities and change the world for the better."
"MSU Denver has a well-earned reputation for delivering the promise of education to underserved members of our community and ensuring they have access to opportunities to learn, grow and thrive," he said. "I believe students are not only the beneficiaries of this work but key partners in it as well. I've been impressed by the numerous ways MSU Denver prepares individuals for leadership and service, both during their time as students and wherever life takes them after."
In his new role at MSU Denver, Peña said his primary focus is "to advance a culture of data-informed decision-making in which our students, faculty and staff understand the goals of the University, the actions we are taking to achieve them and how we define and measure success."
Peña, who holds degrees in Anthropology and French and is in the dissertation phase of his Ph.D. in Research Methods and Statistics, described MSU Denver's 2030 Strategic Plan as "ambitious but attainable."
"The pandemic continues to pose a challenge … but the advantage of a well-crafted strategic plan is that it provides a clear road map to address such challenges and come through stronger, with a refined vision of success and ways to support our students," he said.
A common challenge in strategic planning, Peña said, is converting planning into action.
"Elements of the plan may need to be adjusted or reassessed along the way as new information emerges or different opportunities and constraints present themselves," he said. "Managing interconnected programs, resources and activities can be daunting, but the University has a fantastic leadership team to guide this work and ensure that all members of our community see themselves in the strategic plan and understand how they can contribute to its success."
"Christopher understands how important metrics and data are, but even more importantly, he knows how to help an organization apply those metrics to improve decision-making and align stakeholders throughout the institution," Brough said. "I'm excited to work with Christopher and learn from him."
President Janine Davidson, Ph.D., has identified several key priorities for the Office of Strategy, including developing opportunities for the University through its partnership with the Auraria Higher Education Center and serving as a key partner in the Colorado Department of Higher Education's master plan to address racial inequity in educational attainment.
In the coming months, the Office of Strategy will work with constituents to establish metrics used to measure institutional effectiveness and define success for the University.
"We'll rely on campus partners to provide feedback and expertise in refining these metrics to ensure they deliver actionable insight to the many programs and services at MSU Denver," Peña said.
Topics: Inclusive leadership, Strategic Planning
Edit this page