Early Bird
Navigating grief and loss
Circle of Solace seeks to build community and provide resources for Roadrunners mourning friends, family members and colleagues.
January 31, 2022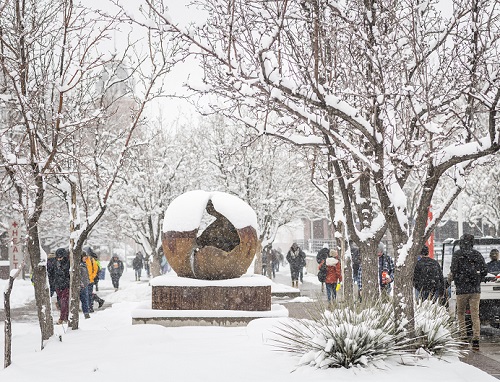 The past two years have been challenging physically and emotionally. Many Metropolitan State University of Denver employees and community members have lost loved ones during this time and have expressed the need to create an outlet for these feelings.
As announced in December, a group of employees has created Circle of Solace, a space for fellow faculty and staff members to gather and learn about and understand the grief process. The group officially kicks off this spring, a season associated with growth and a fitting time to discuss loss and also focus on healing and renewal.
The first meeting will be held remotely through Teams on Feb. 11 from 10-11 a.m. Please follow this Teams live event link to join.
All sessions are open door, and attendees are invited to join as they can.
Please watch the Early Bird and Learning and Development Newsletter for additional events, including panels, grief circles and guest speakers.
Faculty and staff members are invited to join Circle of Solace by contacting Kelly (Yue) Huang, program manager and events coordinator in the Office of International Studies, at huangyu@msudenver.edu, or Cheryl E. Sanders, Ph.D., professor of Psychological Sciences, at sandersc@msudenver.edu.
Topics: Community, Events
Edit this page