Early Bird
Three cheers for a successful tri-institutional project
Thanks to a successful collaboration among all Auraria Campus institutions, the Arts Building has received an entirely new Wi-Fi infrastructure and a lounge renovation.
January 31, 2022
Historically, Wi-Fi in the Arts Building has been less than ideal for educators and students, and the building has long needed renovation. This past summer, representatives from each campus institution's information-technology department gathered to combine resources and expertise to tackle this complex technology and improve the teaching and learning experience. That project is now bolstered by a recent renovation to make the building more comfortable and welcoming.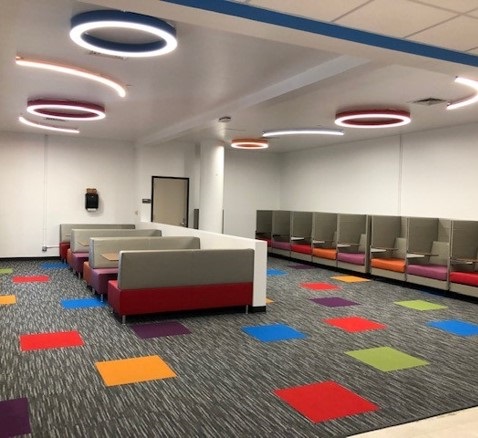 Wi-Fi infrastructure
After hours of troubleshooting, testing and analysis, the tri-institutional team decided to fully update the building's infrastructure. Responding to the urgency, Metropolitan State University of Denver pivoted its original plans to use the updated infrastructure, originally slated for use in a different building, in the Arts Building. This move will benefit MSU Denver students and all who use the facility.
Benefits include:
Faster internet connection, allowing users to work anywhere at high network speed
Increased Wi-Fi network range
Fewer drops or disconnects
"The success on this project cannot be overstated," said President Janine Davidson, Ph.D. "It was only achievable because of the commitment, willingness, partnership, responsiveness, consistent communication, proper planning and engagement from every institution and team member involved."
This semester will provide an opportunity to measure the new Wi-Fi infrastructure at peak usage. Early testing demonstrates positive results, and users have already expressed having experienced a vast improvement.
Renovations and interior upgrades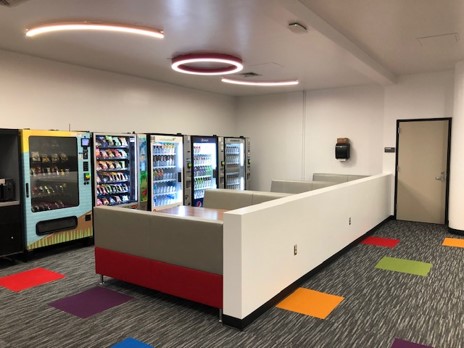 Additionally, the Arts Building underwent a renovation to its lounge spaces – the first major upgrade since it was built more than 50 years ago.
Over winter break, the space went from cold and dated to place where students can feel comfortable studying, grabbing a snack from the vending machines or just taking a break between classes. The renovation includes bright, modern lighting; a more colorful, stimulating and engaging décor style; and plush, upgraded bench seating and individual study spaces. Visit the building to see the improvements!
On behalf of the entire Auraria Campus, we are incredibly appreciative for the work of this collaborative team. We thank you for all the effort, knowledge and time you put into this project. We are grateful to have such dedicated team players as part of our community.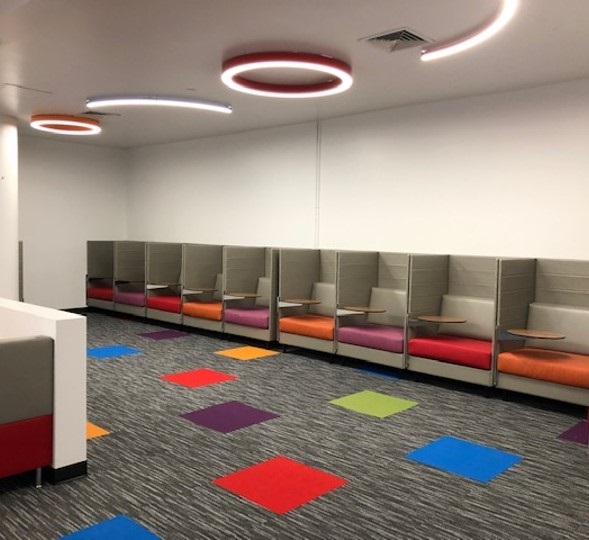 Topics: Arts Building
Edit this page