Early Bird
Reimagining the business of the University
Core implementation of Workday Human Capital Management and Financials to begin in March.
January 25, 2022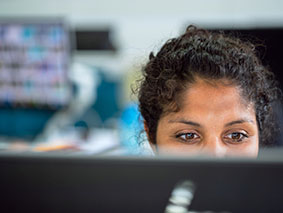 The Strategic Engagement for the Workday Human Resources and Finance Transformation Initiative concluded in December, aptly setting up the University for success as it kicks off the core HR and Finance Workday implementation-project work March 2.
This major institutionwide initiative will transform how Metropolitan State University of Denver delivers essential business services by providing a more scalable platform. It will let the University standardize, automate and centrally manage current HR, payroll, procurement, budgeting and other financial processes that are manually intensive with Banner today.
Over the next year, this program will require focused engagement of numerous University constituents. The cross-departmental collaboration that made the Strategic Engagement successful will continue as MSU Denver strives to ensure that its current and future requirements are met effectively and efficiently. This phase will take about a year to complete, with a launch date tentatively scheduled for early 2023.
Upon completion, the transition to Workday will streamline and operationalize previously manual processes, giving MSU Denver employees who use this state-of-the-art system more time to focus on providing the highest level of service to our students, faculty and staff. It will also support an enhanced day-to-day experience for the University employee community and is a key step in making MSU Denver Colorado's most desired place of employment.
MSU Denver's student information system also plays a crucial role in the success of our students and the work of MSU Denver's faculty and staff. Evaluation of the Workday SIS continues, so watch for updates on this pivotal decision.
Topics: Administration, Human Resources, ITS, Technology
Edit this page