Early Bird
Kudos
Honor the achievements and successes of the Roadrunner community.
January 19, 2022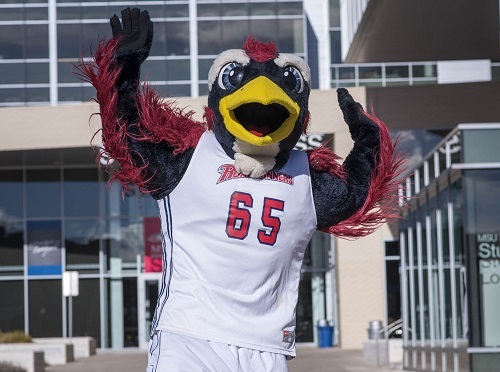 In addition to Faculty Citings, the Early Bird shines a spotlight each month on the accomplishments of Metropolitan State University of Denver faculty members, staff members, students and University partners.
If we missed an award, accolade, innovation or opportunity to celebrate an accomplishment big or small, please email earlybirdeditor@msudenver.edu.
Outstanding staff
Richard Mac Namee
The U.S. flag was flown above the nation's Capitol Dec. 6 in honor of MSU Denver's very own Richard Mac Namee, director of the Cybersecurity Center. The honor was initiated by U.S. Rep. Elissa Slotkin to honor Mac Namee's going above and beyond the call of duty to safely evacuate Afghan allies and partners from Kabul. In an address before the House of Representatives, Slotkin said, "During our operation to evacuate vulnerable Afghans, Mr. Mac Namee's skills to coordinate the logistics of a caravan into the airport and to help run a second caravan of buses was instrumental to our success. When we were in the thick of it, we relied on his expertise and his determination, and only because of both were we able to prevent our Afghan allies – and the lives of so many others – from being lost."
Slotkin also noted Mac Namee's career as a British Army officer with the Scots Guards and the United Kingdom's Special Forces, during which his valor and leadership were honored with a Queen's Commendation for Valuable Service. She also applauded Mac Namee's role in educating aspiring national-security professionals by sharing his expertise in cybersecurity, counterterrorism, intelligence operations and more.
As an institution that values community and service, MSU Denver is very proud to call Mac Namee a Roadrunner.
Alfred Tatum, Ph.D.
American Reading Co. recently welcomed Alfred Tatum, Ph.D., provost and vice president of Academic Affairs, to its Academic Advisory Board. As a board member, Tatum will guide ARC in its mission to ensure that all K-12 students can read, write and think at grade level regardless of potential socioeconomic obstacles. Provost Tatum, congratulations on your appointment, and thank you for your leadership at MSU Denver and in the greater academic community.
Julia Volzke
Two prestigious awards were presented to Julia Volzke, admissions counselor in Admissions, at the 2021 Colorado Council on High School/College Relations conference. Volzke received the College
Counselor of the Year award and a Lifetime Achievement award in honor of her inspirational leadership.
For over five years, Volzke has guided countless Roadrunners as an academic advisor and established strong relationships with numerous high school counselors while coordinating prominent events such as the Day/Night College Fair circuit during Covid-19. A standing ovation for this exceptional Roadrunner!
Fantastic faculty
James D. Reid, Ph.D.
One of the first English-language monographs on the German philosophical poet Novalis is underway thanks to James D. Reid, Ph.D., professor of Philosophy. Reid submitted a proposal to the National Endowment for the Humanities for a project titled "Novalis's Philosophical Fictions: An Important Chapter in the History of German Romantic Philosophy and Poetry." The proposal passed the grant-application screening with flying colors, and the result is a $60,000 grant awarded for faculty at Hispanic-Serving Institutions to fund a year's worth of full-time work on the Novalis project under contract with Oxford University Press. The project includes two focuses, including a monograph and a translation that brings together a large selection of Novalis' most influential philosophical, literary and poetic writings. James, congratulations on the fruits of your hard work.
Kishore G. Kulkarni, Ph.D.
The distinguished Kishore G. Kulkarni, Ph.D., professor of Economics, has yet another award to add to his collection after participating in the 2021 International Research Conference hosted by the Indian Institute of Finance. Kulkarni's work, research and academic contributions to the IIF were honored with the title of IIF Laureate 2021 and the 2021 IIF Research Professor Award. On behalf of the entire Roadrunner community, thank you for your commitment to academic excellence and for being a great representative of MSU Denver.
Prestigious programs
Public-interest design grant
The National Endowment for the Arts has selected MSU Denver for a $20,000 grant that will enable an international network exhibition launched on the Auraria Campus. MSU Denver faculty will coordinate with Design for the Common Good Network partners over the next year and a half to amplify knowledge of public-interest design. The project will use in-person and digital points of engagement over three phases, which include an in-person national conference and exhibition and the creation of a digital online archive. Congratulations to the MSU Denver employees who worked hard to secure this valuable funding and thank you all for bringing new opportunities to the Roadrunner community.
Aerobatics team soars
MSU Denver's aerobatics team is celebrating a national championship. To increase safety in the field and interest among collegiate pilots, the International Aerobatic Club hosts the annual Eagle Collegiate National Championship Award Program, in which several universities compete for the highest pilot scores. The Roadrunner spirit soared high in the 2021 competition, with MSU Denver landing in first place for the Team category, followed by the U.S. Air Force Academy in second place and the University of North Dakota in third. Roadrunners and student pilots Ryan Tierney and Roger Austin Belleau won second and third place, respectively, in the Individual pilot category. A Rowdy cheer for these talented scholars and their mentors.
Topics: Academics, Aviation, Award, CADRE, Community, Excellence, Kudos
Edit this page