Early Bird
Roadrunners Give Back
Serve your community the MSU Denver way.
September 23, 2021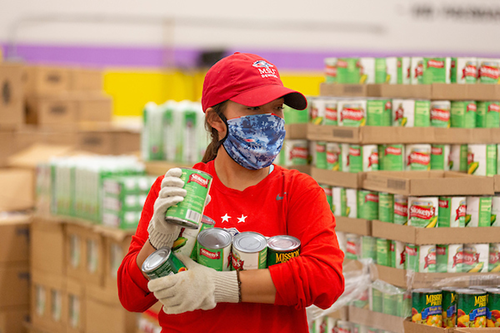 On Monday, faculty and staff members, students and alumni will get to flex their CADRE values by participating in a day of volunteerism. Metropolitan State University of Denver is kicking off the Fall 2021 Homecoming celebration with a day of community service through Roadrunners Give Back events. The lineup includes a volunteer opportunity with Food Bank of the Rockies, a Roadrunner Food Pantry drive led by the Peer Mentoring program (which lasts all week) and a blood drive coordinated by the Center for Multicultural Engagement and Inclusion with the community organization Vitalant Blood Donation. Registration is required for food-bank volunteers and highly encouraged for blood-drive donations.
Monday, 8:45 a.m.-noon
Food Bank of the Rockies – Main Warehouse 10700 E. 45th Ave.
Food drive with peer mentors
Monday through Oct. 1, noon-4 p.m.
Nonperishable foods and beverages can be dropped off at the Roadrunner Food Pantry inside the Tivoli in Room 262 or the Student Care Center inside the Tivoli in Room 311.
CMEI blood drive
Monday, 10:30 a.m.-2:30 p.m.
St. Cajetan's
Use blood-drive code 0529 to schedule your appointment online or call the Vitalant Appointment Center at 303-363-2300.
Edit this page