Early Bird
Scholarship honors retiring Nutrition and Dietetics professor
The Bruce Rengers Endowed Dietetic Internship will support students in completing internships and reaching academic goals.
September 1, 2021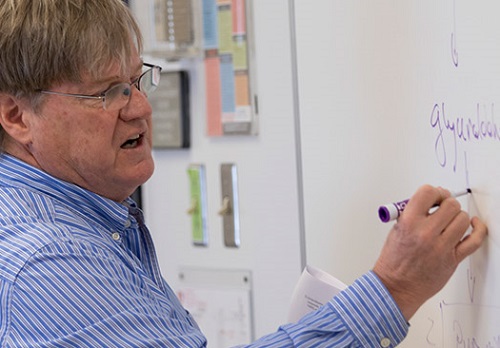 After 14 years of being a positive force in the lives of Metropolitan State University of Denver Nutrition and Dietetics students, Bruce Rengers, Ph.D., professor of Nutrition, is retiring.
To ensure that Rengers' enthusiasm for nutrition and education lives on through future Roadrunners, the Department of Nutrition is establishing the Bruce Rengers Endowed Dietetic Internship to support MSU Denver students in completing dietetic internships. The scholarship honors Rengers' legacy at MSU Denver and will allow Nutrition and Dietetics students to reimagine a future where anything is possible. Having put himself through undergraduate and graduate school, Rengers understands what it means to pay for a hard-won education. He hopes this scholarship will relieve students' financial burdens and allow them to get the training they need to make a difference in the health of communities worldwide.
"Taking Dr. Rengers' accelerated summer Advanced Macronutrients course was intense, but it had a huge impact on my nutrition career," said Emily Hunt, B.S. Human Nutrition-Dietetics, '18 and current M.S. Human Nutrition-Dietetics student. "He is a tough teacher (in the best way) who holds his students to high standards and has a way of making complex content fun and easy to understand. To this day, it is my favorite Nutrition class!"
In addition to making an impact in the MSU Denver community, Rengers worked for years to advance community health as the Women, Infants and Children Nutrition Program director at Denver Health and for Weld County and as the chief nutritionist for the Colorado WIC program. He also taught at St. Louis University, the University of Northern Colorado, Florida State University and Eastern Washington University and was a staff nutritionist at the Brookfield Zoo in Chicago. In 2020, Rengers received the Academy of Nutrition and Dietetics' Excellence in Diversity and Inclusion Promotion Award, which recognizes excellence in innovation, creativity and leadership in the promotion of diversity and inclusion.
Topics: Academics, Advancement, Funding, Student Success
Edit this page