Early Bird
Meet the new interim AVP for Graduate Studies
Annjanette Alejano-Steele, Ph.D., carries the CADRE torch for MSU Denver's master's programs.
August 5, 2021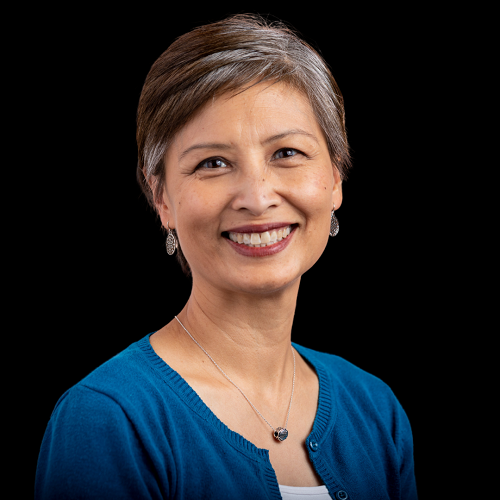 For the next year, Annjanette Alejano-Steele, Ph.D., will serve as the interim associate vice president for the Office of Graduate Studies before returning to her faculty role in the Department of Health Professions. She brings an impressive reputation for enriching academic programs at Metropolitan State University of Denver, having served the University since 1996.
Since earning a doctorate in Psychology from Michigan State University, Alejano-Steele has focused her health-psychology expertise on local and global multicultural issues while working as an educator for the Departments of Psychology and Gender Studies at MSU Denver. From 2006 to 2009, Alejano-Steele was the chair/director of the Gender Institute for Teaching and Advocacy and interim chair of the Department of Social Work before becoming the associate dean in the College of Health and Applied Sciences. Today, she is thrilled to extend her skills and knowledge to Roadrunners pursuing graduate degrees.
Alejano-Steele recently spoke with the Early Bird about her passion for helping Roadrunners continue their higher-education journeys.
Early Bird: What initially led you to MSU Denver?
Alejano-Steele: During my postdoctoral research program in Psychology and Medicine at the University of California San Francisco, I came to fully understand that teaching mattered tremendously to me. In the mid-'90s, when the opportunity to apply for a joint appointment in Psychology and Gender Studies at MSU Denver appeared, I saw the potential for interprofessional teaching with a student population that shared my own lived experience. How could I turn that down? As I start my 26th year here, I have not regretted taking this path for one second.
Early Bird: Why are you passionate about Graduate Studies?
Alejano-Steele: Pursuit of graduate education for many of us has mattered far more than simply adding coursework. Graduate degrees have opened up pathways for many of us to take leads in diversifying workforces. Graduate degrees have afforded us advancement in leadership positions within companies and organizations; graduate degrees have also afforded us more language and tools to be changemakers and trailblazers in our communities. The value of continuing education goes beyond personal benefit to our students as amazing individuals – benefits extend to their communities and the state. It's the very reason why I am still here. The time that I have invested in learning with my students is an investment in my community. Through our graduate programs, I know that we are creating lasting systems changes.

As our communities continue to navigate the uncertainties of this Covid-19 pandemic, it has been an exquisite time of global, local and personal reflection. So many of us have taken stock of how our lives have proceeded thus far. Advancing our education, enhancing our work experiences and having the opportunity to design future pathways with graduate degrees have been real considerations during this uncertain time. MSU Denver's graduate programs are positioned with rigor and affordability at the right time; we are ready to support pathways to advanced degrees.
Early Bird: As the University continues to evolve, what's next for the Office of Graduate Studies at MSU Denver?
Alejano-Steele: From the perspective of my former administrative roles, I could see and feel the hard work of departments to incorporate and create graduate processes and cultures within their programs. The careful build of these programs takes dedicated time, care and steadfast vision to serve our students and communities. The next growth phase of Graduate Studies will be an exciting one, where we advance the vision, structure and impact of our graduate programs, both individually and as a mosaic of programs. In the year ahead, the Office of Graduate Studies will continue to build and strengthen partnerships, identify and fill response gaps and co-design a graduate culture for the University.

At MSU Denver, we have paved this pathway to graduate programs in our proudly unique Roadrunner way. While we have been reimagining possible for our undergraduate programs for many decades, it is time to amplify what our graduate programs have accomplished over the last 11-plus years and amplify what's ahead for our University and our communities.
Topics: Academics, Graduate programs, Inclusive leadership
Edit this page