Early Bird
Ready to Rise
Meet two presenters and RSVP today for TEDxMSUDenver on Sept. 10. Tickets are free to students and members of faculty and staff.
August 18, 2021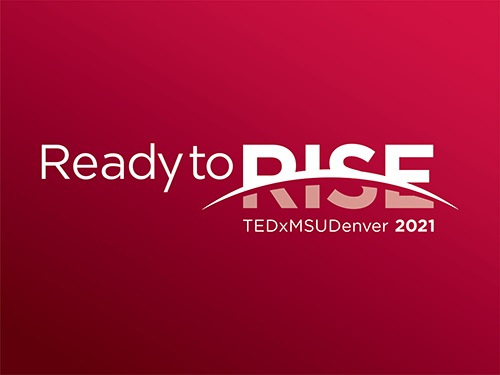 Crisis is a catalyst for change.
The forced isolation and introspection of the pandemic have pushed many Americans to reconsider their careers or quit altogether. Others have found something unexpected amid the long pause: their voice.
"The pandemic has given people a chance to reflect on their passions, on their ideas, and now they're ready to speak out," said Michael Jenet, executive producer of TEDxMSUDenver.
Some of those big thinkers will take the stage Sept. 10 as part of Metropolitan State University of Denver's latest TEDx event. The daylong program, titled "Ready to Rise," will feature talks on resilience, renewal and recalibration in the face of difficulties. Tickets are available for the in-person event, which will be held on the Auraria Campus.
Presenter spotlights
Thomas Austin, Alumni
Historical trauma passed down through generations
In his work at one of the largest county-level social-work agencies in metro Denver, Austin has witnessed the impact of historical and generational trauma in clinical settings. The MSU Denver Master of Social Work alumnus will share observations from eight years in the field and discuss how adopting a perspective of generationally informed trauma treatment can help heal people and society.
Read more in Austin's TEDxMSUDenver blog.
Elizabeth Fajardo, Ph.D., Staff
Return of the Corn Mothers, stories of resilience and renewal
As the director of the MSU Denver Chicana/o Studies Journey Through Our Heritage program and the curator of the Return of the Corn Mothers project, Fajardo has spent more than a decade collecting the stories of women throughout the Southwest. Her talk will recount these women's stories of resilience, give relevant insight about the power of women and inspire future generations to keep hope alive.
Read more in Fajardo's TEDxMSUDenver blog.
And don't forget to RSVP for TEDxMSU Denver.
Sept. 10
10 a.m. to 3:30 p.m.
King Center Concert Hall
The event is free for students and staff and faculty members. Seating capacity is limited, so reserve your tickets today.
Tickets are $20 for alumni and members of the community. Purchase your tickets now.
Topics: Events, TEDxMSU Denver
Edit this page