Early Bird
MSU Denver recognized for support of student veterans
The University earns Military Friendly Schools and Best for Vets designations.
July 7, 2021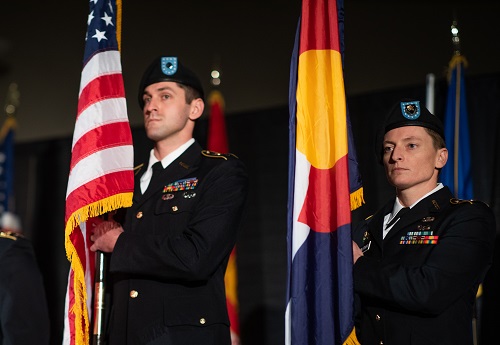 Metropolitan State University of Denver has once again been recognized for excellence in serving and supporting student veterans.
The University received 2021-22 Military Friendly Schools designation from the organization Military Friendly for its dedication to the military community. Rita Case, director of Veteran and Military Student Services, said the prestigious designation required meeting a number of criteria related to not only programming and supportive services but also student veterans' graduation rates, retention, student-loan default rates and more.
Additionally, MSU Denver again made Military Times' "Best for Vets" list, which is the largest and most comprehensive ranking of schools for military-service members and veterans. Military Times applauded the University for its diversity, flexibility and high-quality, high-value academic offerings. The organization also noted MSU Denver's ROTC program and veteran-specific programs such as Veteran Break Pay, which addresses the lack of monthly housing allowance from veteran education benefits during the weeks when classes are not in session, and the Veteran and Military Student Services Center. The center offers student veterans a place to not only socialize and build community but also to get assistance with education benefits, financial aid, academic and career advising, registration, mental-health and counseling services and much more.
Case attributes much of the growth and expansion of military student centers in colleges and universities across the country to surveys such as Military Friendly and Best for Vets. For example, students using the GI Bill can go to college anywhere, and service members and veterans look to these lists to get a feel for which colleges and universities are putting in the work to help them succeed.
"Universities are competitive when it comes to being designated as Military Friendly or highly ranked on the Best for Vets list, as it is indicative of the level of work and resources a university has invested in military-affiliated students," Case said. "Military veterans have made a large sacrifice of their time, their comfort and well-being to serve our country, as well as earn the GI Bill benefit. Thus, it's imperative that colleges and universities honor their sacrifice by doing what they can to ease the transition into college."
Topics: Student Success, Veterans
Edit this page