Early Bird
Encourage students to apply for Earn & Learn
The program offers financial support for Roadrunners completing unpaid internships. Applications are due Friday.
July 27, 2021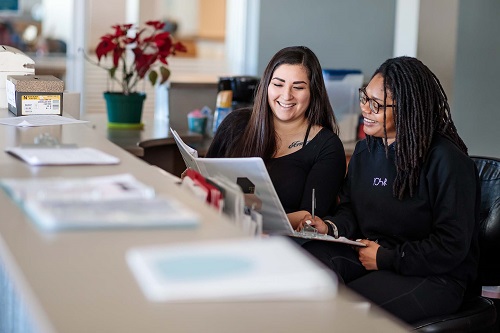 The Classroom to Career Hub is excited to share that the Earn & Learn program will continue into the 2021-22 academic year. Applications are open, and the program needs more students to apply by Friday's deadline.
Earn & Learn was developed in 2018 to pay students who are completing unpaid internships. The student-focused equity program supports diversity in all forms by building experience in fields that traditionally host unpaid internships.
Program guidelines:
Participants must be degree-seeking undergraduate students (all majors are eligible).
Participants must be eligible for student employment on campus.
Participants must plan to take credit at Metropolitan State University of Denver for their internship.
Participants must be completing off-campus internships.
Participants will earn $15/hour for up to 150 hours, plus the opportunity for an additional $250 award.
Participants can apply prior to securing an internship but must find one on their own.*
*Encourage students to email C2Hub@msudenver.edu for support in finding internships or putting together their application materials.
If you know students who are planning to do an internship this fall, or who might be interested if they had financial support, please encourage them to apply by Friday. The application consists of some basic questions and two short-answer responses (minimum 200 words). The process is competitive, so the more support you can give to students in writing responses, the better.
The program has a big impact on students and community partners.
Student survey results from this past spring's Earn & Learn cohort:
100% of students responded that they were less stressed financially.
42% of students responded that they felt valued at their internship site and/or were able to spend more time working on classwork.
Feedback from students
"I was able to focus on my internship more and felt even more motivated knowing I would get paid for this work. I have been struggling to find a stable job since Covid, and this helped me greatly."
"This program really helped reduce my stress levels, as I was able to dedicate more of my attention and time into my internship than originally planned and felt supported enough to do so. If it wasn't for the extra financial support, I may have had to keep a lot more responsibilities on my plate and have had to spread myself thin in other areas. Having the income from this program also helped me be able to pay off more debt and feel more valued."
"It literally was the difference between graduating and dropping out."
Employer survey results from this past spring's Earn & Learn cohort:
30% responded, "I felt like the intern(s) took the experience more seriously because of the pay."
67% said if Earn & Learn were to continue, they would give an edge to MSU Denver students or give them preference knowing they would be more likely to be paid.
Feedback from employers
"I felt that the student was supported financially and better able to concentrate on their work and studies. Lightening the financial burden is key in allowing our students to see their full potential. I LOVE this program and hope to have more students engage with it in the future."
"This program allowed us to host an incredible intern who may not have been able to intern with us otherwise. There is privilege associated with not needing to be paid during an internship. This program allows us to be able to work with a wider range of students. We are grateful for this program."
"In these times, interns often have to find the time and balance school, a job and their internship. Earn & Learn helps relieve the enormous pressure a student intern may feel in trying to balance all of that and perform well. (This) is a small agency and does not have the financial bandwidth to pay interns, yet they are valuable to our work and we love the exchange of the learning process with them."
Contact EarnAndLearn@msudenver.edu for more information.
Topics: Academics, C2 Hub, Classroom to Career Hub, Funding, Student Affairs
Edit this page