Early Bird
An award-winning poet's Roadrunner journey
Cristina A. Bejan, Ph.D., discusses her new book, love of learning and passion for the MSU Denver community.
July 22, 2021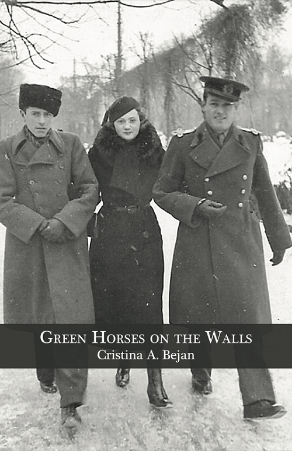 An award-winning author is infusing history with poetry at Metropolitan State University of Denver. Cristina A. Bejan, Ph.D., affiliate faculty, History, has an impressive track record for inspiring others through creative writing. Most recently, Bejan published a collection of poetry titled "Green Horses on the Walls," a Romanian term ("Cai verzi pe pereți") for having impossible dreams. The poetry collection has been named one of the best indie books of 2021 by the Independent Book Publishing Professionals Group and is a finalist in the Women's Issues category for the 2021 Next Generation Indie Book Awards.
As the daughter of a Romanian immigrant who fled Communist rule in 1969, Bejan understands the importance of pursuing impossible dreams. Initially, she sought a degree in theatre, but an unquenchable thirst for learning led her to history research. Bejan was particularly interested in Nicolae Ceaușescu's Communist Party, the dictatorship her father fled. She had dreams of furthering research at graduate school, an impossible dream that came to fruition when she won Rhodes and Fulbright scholarships that allowed her to conduct field research in Romania before fulfilling a research fellowship at the Holocaust Museum in Washington. With this support, she completed her doctorate in History at the University of Oxford.
At MSU Denver, Bejan incorporates her love of the arts into her career, not as a literature professor but as a History educator.
Bejan, who joined the University in 2019, spoke with the Early Bird about her nontraditional academic journey and how MSU Denver has enhanced her love of learning.
How has art influenced your work as a historian?
Bejan: "It's having all my professional experience under my belt that makes what I do now possible. In my classes, we read a lot of historical plays and poems as primary sources. This is what you get in History classes for sure and, also I would imagine, literature classes: You develop this ear for empathy. If you're watching a play, the characters have different perspectives and you imagine what they're feeling and thinking. That's what happens in a History class. You have to put yourself in the shoes of historical figures. If we use our imagination for how it might be for somebody else, I believe we will have less division and more conversation. The fall of 2020, (during) the presidential election, I had both blue and red (students) in one of my classes. I had to hold it down in a way that everyone could listen to each other and share their points of view. That's what we nurture in college. For a lot of people, college is their only place to really have that."
What drew you to MSU Denver?
Bejan: "I immediately fell in love with MSU Denver students. I got to connect with so many first-generation and immigrant students. I've never seen students so grounded. They don't take college for granted. We discuss real-world issues, and I get to learn every day. The summer semester is a great example. I was really exhausted after three online semesters, but I decided to teach summer semester anyway. We had this discussion exchange where a couple students in my (European History) class brought some knowledge that I would have never expected. One (student) had roots with an Indigenous tribe that I would have never known about without having met this student. That's why I love teaching because I am learning. I'll be 40 this year, so I have some life under my belt, but I am still a student myself. For me, the field of history holds all of my passions; it's like this beautiful vase that's holding all the different flowers. I love events, people and their stories, oral history, visual art and then of course literature."
What advice would you offer students considering a History major?
Bejan: "College should be a chance for you to explore. It's kind of this intellectual playground. You're building an interest and a passion for life. My life is so much richer because of all these nerdy interests that I discovered through research. Look at history as something that's valuable in and of itself and then look at all the flowers in the vase that I mentioned earlier. History is a major that can inspire and educate you for the rest of your life."
Topics: Academics, Award, Excellence
Edit this page