Early Bird
Return to adventure
Employees and students are invited to explore outdoor opportunities through Campus Recreation and Outdoor Pursuits.
July 20, 2021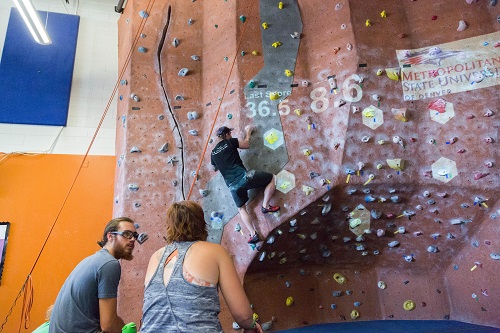 Metropolitan State University of Denver employees and students are invited to explore outdoor opportunities through Campus Recreation and Outdoor Pursuits. Programs are designed with beginners in mind but are great for all skill and experience levels. This summer, all programs and classes are close by, providing Roadrunners with social and kinesthetic outdoor fun.
Contact Campus Recreation for more information on the following events and opportunities and to sign up.
Climbing Wall Clinics
Events include top rope climbing, bouldering and anchor-building. Participants can come just for fun, to dust off their prepandemic skills or to explore the sport for the first time. Sessions are casual, low-key and inclusive but also informational and instructive.
Climbing Clinics
Auraria Event Center
5:30-7 p.m.
Wednesday and Aug. 18
Anchor-building class
Auraria Event Center
Noon-1 p.m.
Today
Day Hike
Red Rocks is among the most popular music venues in the world, but did you know it is also a beautiful location to hike among towering sandstone cliffs? This amazing hike is close to campus, family-friendly and excellent for trail running.
Red Rocks Hike
Thursday
10 a.m.-2 p.m.
Meeting location to be determined. Transportation can be provided if necessary.
Outdoor Pursuits Program

OP offers a variety of trips and instructional experiences, including canyoneering, hiking, rock climbing, ice climbing, avalanche forecasting, mountaineering, camping, canoeing and more.
Adventures
Adventures are instructional, hard-skills-focused experiences that include training in new skills and review in challenging outdoor settings. Examples include rock climbing, ice climbing, trail running and more.
Adventure Leadership Programs
ALP provides student leadership development and team-building for groups, clubs, classes or offices. Participants will learn to facilitate team-building and participate in fun on-campus challenges.
CityScape
Explore the urban beauty of Denver, including art and archaeological and historical sites surrounding campus through mellow social walks in the city and on the trail.
Climbing Wall
Located in the Auraria Event Center fitness center, the climbing wall is open any time the fitness center is open. All levels welcome, from beginner to expert.
Outdoor Pursuits Center or 'The Shop'
Located in Auraria Event Center Room 002, the OPC is a place to hang out and talk gear and adventure. The OPC is staffed by students, for students. Roadrunners can rent camping and other outdoor gear as well as borrow yard games for free to play on campus.
OP and Campus Recreation are in the early stages of a return to programming, and programming suggestions are welcomed. The departments also look forward to working with colleagues across the MSU Denver community to reconnect, restore and find new ways to make students' experience the best it can be.
Topics: Events
Edit this page