Early Bird
Meet MSU Denver's new associate vice president for Strategic Communications
Andrea Smith will help lead the Strategy, Marketing and Communications team.
July 14, 2021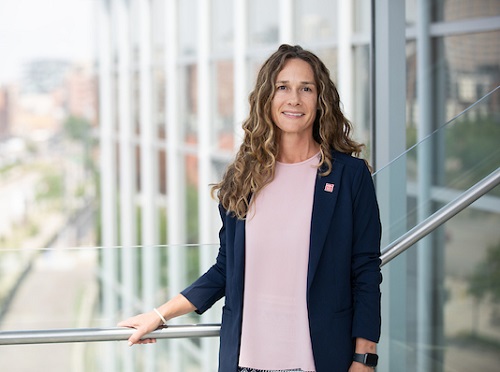 Andrea Smith joined Metropolitan State University of Denver in June as the new associate vice president for Strategic Communications. Smith brings nearly 20 years of strategic-communication experience, including work on integrated marketing campaigns, brand journalism, earned media, community relations, internal communication, events and public affairs.
"I'm excited to be here and be a part of a wonderful team of true professionals and experts," Smith said.
Prior to becoming a Roadrunner, Smith had served as director of public relations and communications for Donor Alliance since 2012, where her leadership helped the organization win the 2018 Malcolm Baldrige National Quality Award. Overseeing internal and external communications for the federally designated organ-procurement organization built on her earlier roles as director of communications for USA Cycling and as communications manager for Snowshoe Mountain Resort. She received her bachelor's degree in Communication from Georgia College & State University and her master's degree in Physical Education with an emphasis in athletic administration from Marshall University.
Smith spoke with the Early Bird about what drew her to the University and how her diverse background is an asset in her new role.
Early Bird: How did your variety of industry experience and your passion for learning prepare you to take on this new challenge?
Smith: This is not the first time I've completely switched industries. When I started working in the ski industry, I had only been skiing once, and I knew even less about bike racing. But that lens can be a great advantage as a communicator because most of your audience doesn't know the in-depth nuances of your topic matter. You can be a translator to those outside audiences – helping position complex topics in a manner that resonates – and offer your internal team a fresh perspective.
Learning new things is exciting, and I'm eager to dive into a new world. My broad marketing and communications background provides a wide scope of experience to pull from. Donor Alliance was also a Malcolm Baldridge National Quality Award winner. That was a decadelong journey toward performance excellence, process improvement, strategic review, understanding how to measure success and what is working. What I like about the Baldridge model is that it's not prescriptive. Rather than saying, "Your organization should be doing A, B, C and D," the Baldridge model asks questions like, "How do you do A? How do you know it's working?" to help organizations make decisions that improve systems and processes to ultimately make them as efficient and effective as they can be.
Early Bird: What are some of your initial goals and areas of focus?
Smith: Right now, I want to learn about what's working well and understand successes, goals and objectives at the University level and then consider how we can strategically prioritize to best support those goals. It's just important that we're all moving in the same direction and that we are all aligned with the wonderful strategic plan that has been laid out.
As I also was a D-II collegiate athlete in softball, I am excited to check out a softball game and other sports and campus initiatives as well.
Early Bird: What attracted you to this position and to the University?
Smith: What initially caught my eye was that this job aligned with my skills and experience, but through the process of meeting my potential co-workers and learning about the University, I became more and more excited about the role. The authenticity, passion, friendliness and energy of the search committee and members' commitment to the University mission. I was also very impressed with the core values of the University and the commitment to accessibility, innovation, diversity, equity and inclusion.
Also, during graduate school I was a full-time graduate assistant working in communications for the Athletics Department. I loved the sense of community in higher ed and the commitment to learning. I enjoy learning new things and learning from others; this environment was really appealing to me.
Early Bird: Speaking of learning, what topics and areas of study are exciting you these days?
Smith: A lot of what I read is related to public relations, marketing, communications and digital marketing, and I love to learn about the psychology of work and how it integrates with those topics, but I also like to diversify. I'm currently reading "Think Again" by Adam Grant, Barack Obama's memoir as well as "Academia Next – the Futures of Higher Education" by Bryan Alexander to learn about trends and forecasting the future of higher ed. One of my favorites is "Man's Search for Meaning" by Victor Frankl.
Topics: Community, Hiring, Inclusive leadership, Strategic Planning, Strategy, Marketing and Communication
Edit this page