Early Bird
An easy – and tasty – way to expand your Roadrunner community
The Lunch Buddies program invites employees to get away from their desks, have a bite to eat and make new campus connections.
July 14, 2021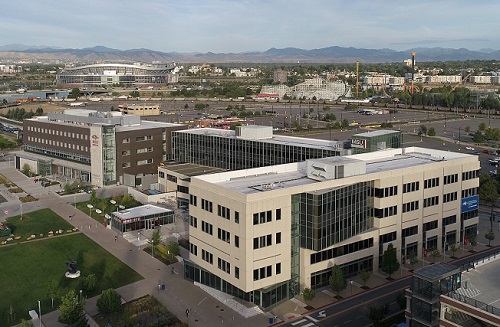 Metropolitan State University of Denver has welcomed a number of new Roadrunners to the flock since the University moved to largely remote operations in March 2020. As many employees have officially returned to on-campus work, now is a great time to reconnect with old colleagues and get to know new team members through the Lunch Buddies program.
The low-commitment program invites employees from different offices, departments and corners of the campus to grab lunch and have a chat. Lunch Buddies participants are paired according to their interests rather than their titles or work responsibilities, helping to break down professional silos and build a friendlier, more cohesive University community. To date, more than 110 staff and faculty members and student employees have gotten involved – and the program is growing.
"Lunch Buddies promotes cross-campus, cross-functional connections and collaborations," said Diane Yee, director of Campus Recreation, who introduced Lunch Buddies to the MSU Denver campus in 2018. "Employees are often so focused on their roles within their departments, and it sometimes takes a little encouragement to branch outside of the office."
To sign up, simply complete this form. For more information about the Lunch Buddies program, contact Yee at dyee1@msudenver.edu.
See what employees across campus have to say about Lunch Buddies:
Amie Kaufenberg, budget analyst, School of Education, 13 years at MSU Denver
"The Lunch Buddies program is the best! A lot has changed since I was hired in 2008, and so many have joined our team. Lunch Buddies keeps me connecting with wonderful people from all over campus - about work sometimes, but usually about personal interests. I participate every other month or so, and am always glad I did."
Tisha Townsend, associate director of TRIO Student Support Services, four years at MSU Denver
"I've really enjoyed the Lunch Buddies program and was lucky enough to be involved in it before the pandemic. I love being a part of this (program) because it has put me in contact with people I may not have gotten to know otherwise. I've made some great connections, and most recently I have been reconnected with people I already know but haven't had time to catch up with. So it's been really great to start back at campus catching up with old friends and meeting new ones!"
Carolena Diaz, collections advisor in the Office of the Bursar, 1.5 years at MSU Denver
"I love the Lunch Buddies program because it allows me to meet and interact with new people across various departments and learn something new. If you are someone looking to learn something new about someone every month, this is definitely a beneficial program that allows you to do that plus grow your network!"
Adriana Kilday, academic advisor and retention specialist, Psychological Sciences, two years at MSU Denver
"I don't know how Diane (Yee) does it. Every Lunch Buddy I've been paired with has been an instant connection. It's an awesome way to connect with other people. I have made friends, found a mentor and developed some nifty skills being involved with Lunch Buddies. Come join, and you'll at least have one interesting lunch meeting a month, guaranteed!"
David Farrell, assistant professor of Music, nine years at MSU Denver
"Lunch Buddies is a fantastic way to meet people from different parts of the University and to learn about how many exciting things are happening at MSU Denver."
Topics: Collaboration, Community, Events
Edit this page