Early Bird
Budget Recommendation Committee recap
Members discuss summer and fall enrollment figures and Phase II budget parameters.
July 12, 2021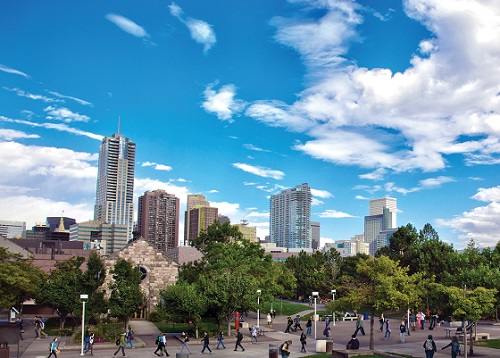 Friday's meeting of the Metropolitan State University of Denver Budget Recommendation Committee focused on the latest enrollment figures, Phase II budget parameters and an update on Higher Education Emergency Relief Fund monies, with the goal of providing a framework for ongoing Phase II budget discussion and information on factors impacting the University's budget.
Enrollment update
Summer Preliminary Enrollment Report (compared with 2020) from the Enterprise Data Warehouse as of Friday:
State-funded FTEs are down 13.07%.
Head count is down 12.13%.
Fall 2021 Preliminary Enrollment Report snapshot:
State-funded FTEs are down 12.18% compared with last year (as of Friday).
Head count is down 10.33% (as of Tuesday).
The following data comes from the July 5 Application Weekly Report:
Summer 2021 Applications

Applied is down 13.19%.
Accepted is down 13.65%.
Registered is down 23.14%.

Fall 2021 Applications

Applied is down 7.18%.
Accepted is down 1.11%.
Registered is down 6.86%.
The full PowerPoint presentation also includes fall 2021 vs. fall 2020 student-profile comparisons, broken down by enrollment status, classification, admission mode, gender, residency, age, race/ethnicity, first-generation status and veteran status.
Michael Nguyen noted that data show that students across the nation are registering for courses later within the enrollment cycle, and the department remains hopeful that enrollment and registration will improve. The department is strategically contacting students via email, text and calling campaigns. The department will continue to closely monitor enrollment and registration progress as well as registrations with regard to online vs. face-to-face courses.
Phase II budget parameters
George Middlemist, Ph.D., associate vice president for Administration/CFO, presented on the University budget-planning framework, which in Year One will focus on recovery and taking care of employees, followed by stabilization and growth in Years Two and Three, respectively.
"The No. 1 thing our senior leaders have identified as a priority is taking care of our people," Middlemist said, noting the need to avoid compensation compression and offering noncompetitive wages. "Part of taking care of our people is compensation … and (part is) balancing workload. Where is it that we need to add staff to be able to redistribute workloads?"
Middlemist outlined several estimated fiscal 2022 revenue scenarios based on low enrollment (enrollment is down 13%), medium enrollment (down 10%) and high enrollment changes (down 7%) based on resident and nonresident enrollment. The scenarios also included Phase I allocations for a mandatory increase in cybersecurity funding and base expenses as well as mandatory expenses for Phase II.
The committee next reviewed estimated budget needs, reviewing scenarios that included across-the-board increases for administrators, Category I and Category II faculty members and affiliate faculty members and one scenario that included no increase. Members also discussed base requests submitted by each University area, which together total upward of $14.7 million.
See the full Phase II Budget Parameters PowerPoint presentation .
HEERF update
The BRC members requested to not solidify HEERF spending and allocation recommendations until enrollment numbers for fall are more reliable. Members also discussed devoting some funds to enrollment stabilization as well as to immediate classroom upgrades and improvements to technology and furnishings.
Next steps
The Budget Office will send the Phase II budget-request tool to committee members, and BRC members will share and discuss the document and requests with their constituents. Members will share feedback at the next BRC meeting July 16.
Topics: Compensation, Events, Funding, Inclusion
Edit this page