Early Bird
Hands-on science
MSU Denver's Biology Department puts heavy emphasis on practical, real-world experience.
June 8, 2021
If you put Metropolitan State University of Denver's Department of Biology under a microscope, you'd quickly spot a common thread in how it educates students: plenty of hands-on, practical experience and real-world application.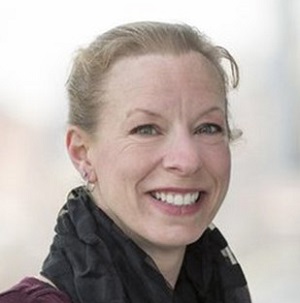 You'd see students not sitting but doing. You'd see students conducting meaningful research, not only in MSU Denver labs but also across Colorado as well as in other states and countries, getting hands-on training, amassing months of practical experience and applying that experience regularly to real-world problems.
"Practically every course and all of our faculty emphasize hands-on experiences and training, whether that's in the various laboratory courses we offer, through field experience or by mentored undergraduate research," said Sheryl Zajdowicz, Ph.D., a professor and the chair of the Department of Biology. "We ensure that students have many ways to gain hands-on training and applied experiences."
Zajdowicz (pictured right) said this educational approach "helps our students develop the skill sets and knowledge in the areas where their passions lie, and that allows them to be successful in future careers, in graduate school, in professional programs and ultimately as contributing members of their community."
The department also offers course-based undergraduate research experiences (CUREs), along with many other active-learning approaches in introductory and advanced courses.
"These experiences encourage students to apply the skills they've learned in the classroom, and they also foster a more active learning environment," she said. "By engaging students in research and in practical applications – engaging them in the actual process – it helps students identify their path, whether that's in their degree, future graduate programs or career paths."
Even Covid-19 didn't stop the department from continuing with practical experiences for students.
"Early in the pandemic, our department showed great innovation in providing online laboratories – virtual dissections, slide staining, microbiological techniques. All of it was really remarkable," Zajdowicz added. "Plus, many faculty members were able to invite outside speakers to their virtual lectures to expand student exposure to experts in the field."
Mentoring is another important part of the practical experience students get as part of their journey through the Biology program.
"Students receive mentoring on many levels, including guidance on necessary steps to take to be successful in their pursuit of a specific career or graduate program as well as on individually mentored research projects," she said. "Faculty members regularly mentor students in research projects that not only offer hands-on experience but also increase critical thinking and other essential skills that give our students key advantages as they pursue careers or graduate school."
She added that those research opportunities also develop a sense of community that yields student success.
"These experiences frequently lead to presentations at local, regional, national or even international conferences; some projects have even led to peer-reviewed publications," Zajdowicz said. "The projects are as diverse as the field of biology itself, and they contribute to both the scientific community and the general public as well."
Some examples include:
Mosquito behavior and disease transmission; investigation of other blood-sucking insects along with the development of educational documentaries on these insects.
Alternative therapeutics to target antibiotic-resistant microbes and investigation of disease-causing microbes.
Wastewater-based epidemiology, including detection of Covid-19 and identification of human-waste contamination of Colorado's waterways.
Investigation of genetic mutations leading to craniofacial disorders and cancers.
Conservation biology that includes human impact on plants, animals, etc.
Neurological and biophysics mechanisms involved in movement.
"These are all obviously vitally important topics that impact all of our lives, and they give our students practical experience that leads directly to improvements in each of these areas and many more," Zajdowicz said.
Christy Carello, Ph.D., professor of Biology, (pictured right) regularly serves as a mentor for students on independent study projects from inception to completion.
"They go through the complete scientific method of developing hypotheses and methods and then analyze and present results and conclusions," Carello said. "Students with this practical field experience are much more desirable in the job market."
In fact, two students recently landed positions: one as a park ranger for the City of Fort Collins and another as a consultant to the oil-and-gas industry.
"In both cases, field experience was necessary to be competitive for those jobs," Carello said.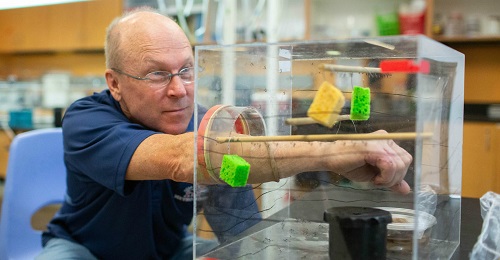 Another Biology professor and frequent mentor, Bob Hancock, Ph.D., (pictured right) said that since 2009, 91 of his research students have engaged in novel research on insects, noninsect arthropods and fish behavior that has culminated in 56 undergraduate-research-conference presentations, 25 regional professional scientific conferences and eight juried national/international professional scientific conferences. Several of Hancock's former researchers have gone on to earn doctorates or master's degrees and to work as physicians, veterinarians, nurses, physician assistants and pharmacists.
"Many have secured salaried, bachelor's-level biology-related positions in labs, schools, zoos, Colorado parks and in mosquito control," Hancock said. "I'm extremely proud of the accomplishments of these impressive students. And as (I am) their mentor and research director, they've pushed my scholarly endeavors to new and significant heights."
Zajdowicz said another point of differentiation between MSU Denver's Biology Department and other universities is its broad range of courses.
"Students can tailor their Biology degree toward their interests, whether it be in botany, cell biology, ecology, genetics, human biology, neurobiology, microbiology, zoology, etc.," she said. "And our class sizes are small in comparison to many of our peer institutions, which allows for greater engagement with our students. I'm proud of how committed our department is toward providing these kinds of opportunities for our students."
Topics: Academics, Biology, Center for Multicultural Excellence and Inclusion
Edit this page