Early Bird
Safe Return to Campus highlights
COO Larry Sampler shares MSU Denver vaccination rates, addresses vaccine misinformation.
June 7, 2021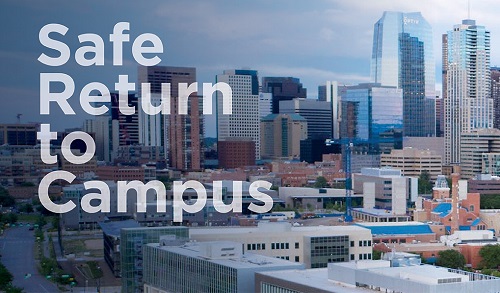 In last week's Safe Return to Campus update, Larry Sampler, chief operating officer and vice president for Administration and Facilities Management, shared updates on vaccine-verification and -exemption processes.
All registered students should have received an email Tuesday from Will Simpkins, Ed.D., vice president for Student Affairs, containing instructions on how to verify their vaccination status or request an exemption. The email contains a unique, personalized link for the brief vaccine-verification or -exemption form, which does not require citizenship or health-insurance information.
As a reminder, all Roadrunners are encouraged to complete their first vaccine dose (if you opt for a two-dose vaccine) no later than July 1.
Vaccine info from a campus expert
For Roadrunners who are hesitant to get the vaccine, Erin Seedorf, Dr.PH, assistant professor in the Department of Health Professions, shared the following:
Covid-19 vaccines are safe and effective.
Several studies have shown that all three Covid-19 vaccines are highly effective at preventing recipients from getting Covid-19, and if you do happen to get Covid-19, the vaccines will prevent you from getting seriously ill. Also, these vaccines have undergone the most intensive safety monitoring in U.S. history. Millions of people in the United States have safely received the Covid-19 vaccines.
You should continue to be vigilant until you are fully vaccinated.
It typically takes two weeks after vaccination for the body to build protection (immunity) against the virus that causes Covid-19. Covid-19 vaccines are designed to teach our immune system how to recognize and fight the virus that causes Covid-19. You are not fully vaccinated until two weeks after the second dose of a two-dose vaccine or two weeks after a one-dose vaccine. It is possible to get sick with Covid-19 right after you have been vaccinated because the body has not had enough time to build the protection needed to fight off the virus.
Learn more about the Covid-19 vaccines in Thursday's Early Bird article.
Upcoming wellness event
Additionally, faculty and staff members are invited to attend Managing the Social Stressors Associated With a Return to Campus.
Managing the Social Stressors Associated With a Return to Campus

Wednesday

2-3 p.m.

Attendees are invited to submit questions in advance or to pose questions to panelists during the event.
Topics: Health, Safety
Edit this page