Early Bird
MSU Denver joins White House Covid-19 College Challenge
The challenge calls upon higher-education leaders and students to join President Biden's effort to get as many Americans as possible vaccinated.
June 30, 2021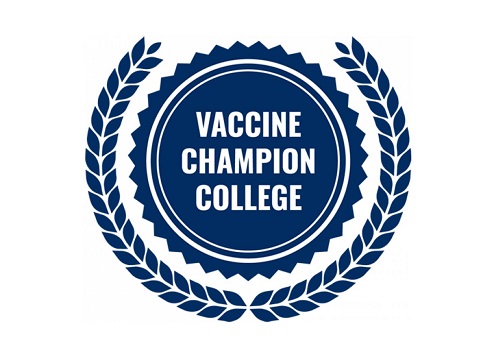 Metropolitan State University of Denver is proud to be a Vaccine Champion and a participant in the White House Covid-19 College Challenge. The University joins more than 350 institutions across the country, representing 46 states, in working to protect our students and communities from Covid-19.
The challenge calls on higher-education leaders and students to join President Joe Biden's effort to get as many Americans as possible vaccinated, recognizing the important role colleges and universities play in community health.
At MSU Denver, the #BeakTheVirus campaign to get all students vaccinated continues to see success. Targeting current and prospective students, the campaign has used social media and a variety of other channels to motivate and incentivize students to complete their vaccination journey before the beginning of the fall semester.
Vaccinated Roadrunners are also sharing their stories on the University's Facebook, Instagram and TikTok pages. Student Kendall Taylor-Wright, a junior Art History major and African Studies minor, shared why she chose to #GetVaxxed and do her part to #BeakTheVirus:
"I am vaccinated to be a selfless force of change to protect my community. As much as the vaccine is beneficial to me, I received my shots knowing I am doing my part to help essential workers, the elderly, the differently abled, those with invisible disabilities (unable to receive their own vaccination) and those in systematically vulnerable communities."
Another student, Juan G., shared, "I got vaccinated because I wanted to protect others, especially my loved ones, therefore, I think the best way to protect others is to protect yourself first."
Undergraduate students who choose to get vaccinated are eligible to win one of five "Rowdy Return Scholarships." The scholarships will fund the cost of tuition and fees not covered by financial-aid awards for the 2021-22 academic year, up to $8,164 for the full year ($4,082 each semester). The drawings will take place after Aug. 1.
"The focus is on rewarding the responsible actions of building a safer community from those who have been vaccinated, as well as to motivate those who plan to but haven't gotten around to it yet," said Mary Sauceda, associate vice president of Enrollment Management.
The University continues to offer free Covid-19 vaccinations to all Roadrunners and community members via walk-up or scheduled appointment.
Topics: Health, Safety
Edit this page