Early Bird
Teach your dream class
Submit your idea for an Honors Colloquium course and, if selected, receive a budget and stipend.
June 3, 2021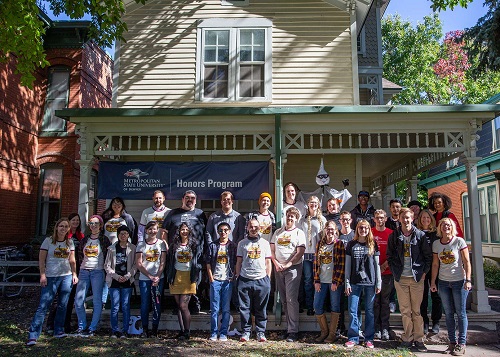 The Honors Program is looking for a few good professors.
The Honors Colloquium is a 3-credit, variable-topics course designed to foster discussion-based, interdisciplinary learning and approach subject matter in ways that are broad, deep and complex. This variable-topics course provides students the opportunity to examine historical and/or contemporary issues through relevant readings from a variety of perspectives and disciplines, discussions encouraging synthesis and analysis of conflicting or competing views, and written assignments.
Designing a colloquium course is an opportunity for faculty members to create an innovative course that meets the specific requirements of the Honors Program curriculum. Affiliate and full-time faculty members who hold a terminal degree in an academic discipline and have demonstrated excellence in University teaching are invited to submit colloquium proposals. All proposals are reviewed by the Honors Council, comprising faculty representatives from across all Metropolitan State University of Denver colleges and schools as well as Honors Leadership and Honors students. Proposals will be assessed based on their ability to integrate program outcomes in a dynamic and engaging format.
"The Honors Colloquium courses are interdisciplinary and designed to engage students in rich discussion on topics of both timely and enduring importance for human society," said Megan Hughes-Zarzo, director of the Honors Program. "Successful courses are often offered more than once, especially when Honors students request a second opportunity to take a given course."
The Honors Council will select approximately eight proposals. Selected proposals will be included in the HON course rotation during the next two academic years, beginning next spring. The Honors Program director will contact applicants by August if their course has been selected to begin the scheduling process.
Honors Colloquium proposal timeline:
Deadline for proposal submission: June 30
Honors Council reviews and selects proposals: June 28-July 15
Faculty members whose proposals were selected are notified: Aug. 1
Regular Course Syllabi for spring 2022 courses due: Sept. 1
Past Colloquium courses have included titles such as:
Environment, People and Place
Adventures in Podcasting
Outsmarted: How Our Phones and Devices Affect Our Moods, Health and Relationships
The Art of Living: Ways of Life in Ancient Greek and Roman Philosophy, Religion and Literature
The American Dream: Myths and Realities
Freedom and Sin at the Cinema
Making Meaning Through Our Things
Humor Studies
Global Perspectives: Introduction to Global Engagement and Citizenship
Love
Food, Farms and the Environment
To learn more, contact Hughes-Zarzo or see this this proposal form .
Topics: Academics, Honors Program
Edit this page