Early Bird
Safe Return to Campus highlights
COO Larry Sampler shares updated vaccination rates, RTD EcoPass info.
June 28, 2021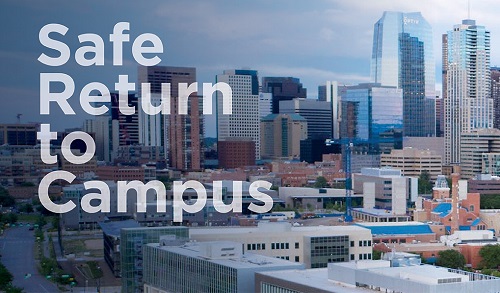 As mentioned in last week's update, Larry Sampler, chief operating officer and vice president for Administration, along with Provost Alfred Tatum, Ph.D., and Ed Brown, chief of staff to President Janine Davidson, Ph.D., are looking forward to touring campus during the afternoons of July 6 through July 9 to welcome returning employees. Tatum and Brown joined the Metropolitan State University of Denver leadership team during the pandemic, and this will be part of their journey to get acquainted with members of faculty and staff. More details will follow soon.
Vaccination-verification survey results
Faculty, staff, students and prospective students are continuing to complete the vaccination-verification survey. As of Friday, 85% of those who have responded (approximately 9,000 faculty, staff, and students) are fully or partially vaccinated for Covid-19. An additional 3.4% of these respondents intend to be vaccinated by the time Fall 2021 classes begin on Aug. 23.
Employees: 1,797/2,558 (70% response rate; 81% response rate when removing full- and part-time faculty not on-contract during summer 2021)
95% fully or partially vaccinated
4% (72) exempt
Registered Students: 6,110/12,586 (48% response rate)
82.5% fully or partially vaccinated
3.6% intending to be vaccinated by start of fall 2021 semester
13.9% (850) exempt
Unregistered Students: 1,167/36,547 (3.2% response rate)
78.4% fully or partially vaccinated
6.2% intending to be vaccinated by start of fall 2021 semester
15.4% (178) exempt
Wellness
The Roadrunners Safe Return Wellness Committee has developed a new online Wellness Dashboard that will highlight events, resources and on-campus areas for reflection, prayer and meditation. Roadrunners are invited to submit wellness-related events, resources and information for inclusion on the site.
Hybrid-meeting support
To help the many departments on the MSU Denver campus that will be conducting hybrid meetings, CFO Kevin Taylor and the Information Technology team have put together a guide and some additional resources for running effective hybrid meetings.
RTD Pass reminder
Starting today, all faculty members (including affiliate faculty members) and members of professional, classified and temporary staff can get their Regional Transportation District EcoPass from Auraria Higher Education Center Parking and Transportation Services in the 7th Street Garage. To help with the return to campus, MSU Denver will cover the cost for the fall (July 1 to Dec. 31) pass.
Video resources
Your questions about alternative work arrangements answered
Your questions about the vaccine-verification and -exemption process answered
For more information, visit the Safe Return to Campus website, reach out through this form or send an email to roadrunnersafereturn@msudenver.edu.
Topics: Administration, Health, Safety
Edit this page