Early Bird
Restorative Justice Coalition applications are due Friday
Roadrunners are also invited to attend upcoming events to learn more and discuss restorative justice.
June 28, 2021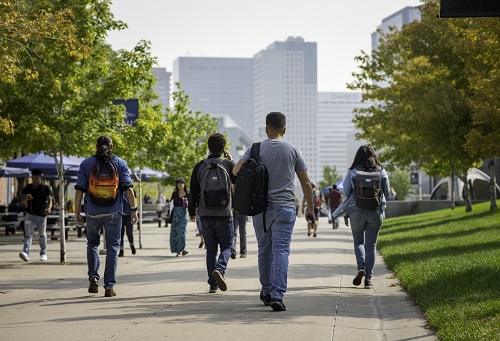 As announced May 12, the Metropolitan State University of Denver Dean of Students Office is launching a Restorative Justice Coalition. The office is looking for students, staff members and faculty members who are passionate about restorative justice and incorporating restorative practices into the University community.
More about the coalition
The coalition will engage in a shared learning experience and explore opportunities for a more community-inclusive response to wrongdoing at MSU Denver and as a way to build relationships and prevent conflict.
Meetings will kick off in August and occur monthly for one year.
In August, the coalition will meet for an immersive one-day restorative-justice training.
Meetings will be facilitated in a restorative-circle process and cover a range of topics, including restorative-justice origins and research, how to rethink student conduct from a restorative perspective and the direct relationship between racial justice and restorative justice.
How to apply
Check out the coalition's website to learn more and to apply or recommend someone. Students and members of faculty and staff are welcome to apply. Applications are due by Friday.
Upcoming events
The DOS Office is also hosting a series of events this summer to start community-based conversations about restorative justice.
Dialogue: What is Restorative Justice?
July 8

9-10:30 a.m.

This facilitated dialogue will introduce Roadrunners to restorative-justice philosophy and principles. Attendees will consider what justice and accountability mean to them.
Dialogue: Restorative Justice in Action
July 20

2-3:30 p.m.

This dialogue will include discussion about the many ways in which restorative justice can be used in response to wrongdoing and conflict, including here at MSU Denver.
Want to know more about restorative justice?
Restorative justice is a philosophy and practice that emphasizes repairing the harm caused by an incident of wrongdoing or by conflict. Restorative justice is a collaborative process that brings together the involved parties to address what happened, the impacts and needs of all involved and what can be done to repair the harm that has been caused. To learn more, RSVP for one of the above events and check out more on the coalition website.
Edit this page