Early Bird
Encourage students to apply for the HOPES Program
The program helps students most at risk of dropping out maintain their financial benefits.
June 23, 2021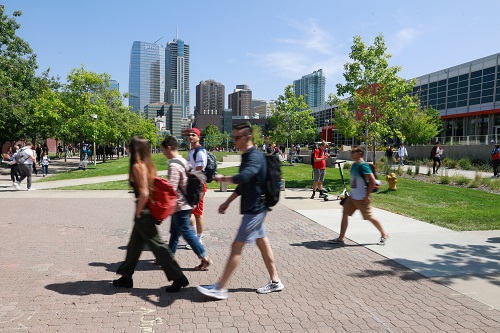 The Student Care Center is enlisting employees to help to spread the word about valuable new student resources.
The Heightening Outcomes for Public Benefit-enrolled Students (HOPES) Program will launch in August to help students most at risk of dropping out maintain their financial benefits. The program assists students in finding balance between their public-benefit programs and their academic life through personalized case management, meaningful and intentional support, and education to assist them with their public benefits and help them achieve their academic goals and persist to graduation. Students accepted into the HOPES Program will remain in the program throughout their time at Metropolitan State University of Denver as long as they are able to complete the annual requirements.
The HOPES Program is housed under the MSU Denver Student Care Center, which offers case-management services and provides holistic, nonclinical case-management support to students facing challenging life circumstances that may act as a barrier to pursuing their academic goals.
HOPES Program participants will have access to:
Student Support Services
Individualized academic coaching and emotional support
Social events and workshops designed to provide education around life skills and resources
Public-benefits program navigation and maintenance assistance
Referrals to outside resources for housing, food, health, etc.
Students who are eligible to apply to the HOPES Program match the following criteria:
Degree-seeking students who are on a public-benefit program or can show they will be on or eligible for one within Colorado by August.
Students who were previously admittedare given preference.
Applicants must complete and submit their application by the deadline for consideration.
Applications are now being accepted. All applicants will be notified of their acceptance or denial beginning July 7.
Students will continue to be enrolled until the program is full. If the program receives more applications than there are spots available, preference will be given to applications received before Monday. Please visit the website for more information and to apply.
Contact the Student Care Center at 303-615-0006 or studentcarecenter@msudenver.edu for more information.
Topics: Funding, Student Affairs, Student Success
Edit this page