Early Bird
$1.9 million grant expands impact of social-work program
U.S. Secretary of Health and Human Services visits campus to celebrate program's successes, meet students and discuss additional areas of need.
June 23, 2021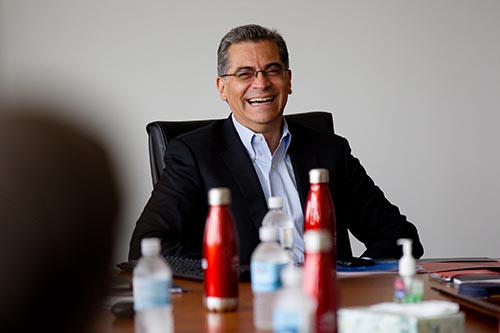 Xavier Becerra, U.S. Secretary of Health and Human Services, was on campus Friday for a meeting to celebrate the Metropolitan State University of Denver Department of Social Work's impact on students and the state of Colorado and to discuss what could be possible with additional grant funding.
MSU Denver was recently awarded a $1.92 million Health Resources and Services Administration Behavioral Health Workforce Education and Training grant that will provide stipends and specialized training to 116 diverse students who complete their Master of Social Work degree. The four-year award will support HRSA Scholars as they deliver behavioral-health services to children, youth and transitional-age youth in medically underserved, rural and frontier communities.
"Covid exposed so much of what we knew already. We see families set back … and a whole bunch of people left behind," Becerra said in his opening remarks. "You all will be at the forefront of helping us learn more and helping us reach everyone."
The meeting, organized by Rebecca Trammell, Ph.D., interim dean in the College of Health and Applied Sciences, included the MSU Denver team that facilitates HRSA grants, students impacted by funding and supervisors from internship sites, among others.
"Through our partnership with HRSA and our community field placements, we are striving to reimagine a health care system where all Coloradoans receive culturally appropriate services in their communities," said Dawn Matera Bassett, Ph.D., associate professor of Social Work and principal investigator for the grants.
The new funding expands the scope of work completed through three previous HRSA BHWET grants. Upon completion of this project, Matera Bassett said, HRSA BHWET will have directed a total of $6.12 million to MSU Denver to educate 332 diverse clinicians on how to provide culturally appropriate services to rural, vulnerable and medically underserved populations in Colorado.
Linda Medina Martinez, a Social Work alumna who graduated in 2019, is one of the students who benefited from a HRSA grant. The first-generation Mexican immigrant has lived in the United States for 20 years but wasn't sure higher education would ever be accessible to her.
"I was able to finish my master's degree while also working and doing an internship with Denver Health," she said. "The grant gave me the opportunity to graduate with as little debt as possible and return to the community where I grew up as a school social worker."
Medina Martinez said she's providing services to students in a low-income, largely Latino community, where Covid-19 has exacerbated inequities in mental-health services.
Brian Bowen, a judge in the Adams County Court, has been impressed with the social-work interns he's hosted at his site. Bowen runs the Adams County Court for Veterans, which according to the program's website assists military veterans to access treatment and supports while holding them accountable for their actions within the criminal-justice system.
"The interns have looked at the program and made key suggestions that are helping us develop tools to better assess clients so they can be more successful," he said.
While there are other universities and organizations in Colorado that receive BHWET funding, Matera Bassett said the secretary chose to speak with MSU Denver because the University is an exemplary site with its focus on cultural responsiveness, community partnership and diverse graduates.
Becerra, who emphasized the importance of work in underserved communities, echoed that sentiment.
"We need more programs like this," he said. "We want to experience where there has been some success, and we want to know where to invest the next tranche of dollars."
Among the areas participants suggested for further investment were support with technology infrastructure to help people in remote areas access services online; trauma-informed care; partnership with law enforcement to assist with response to behavioral-health crises; recruitment of social workers from nondominant cultures; and how regional HRSA offices could host students interested in policy, rather than clinical work.
Becerra lauded each idea and expressed particular interest in bringing more social workers into policy work. He asked his team to follow up with the Social Work Department to continue the discussion on several suggestions.
Topics: Social Work
Edit this page