Early Bird
MSU Denver earns Hunger Free and Healthy Minds designation
The University was recognized for its work to end hunger and address the mental-health needs of students.
June 22, 2021
The Colorado Department of Higher Education on Monday announced that Metropolitan State University of Denver has earned Hunger Free and Healthy Minds designation for its work to combat food insecurity and address the mental-health needs of students.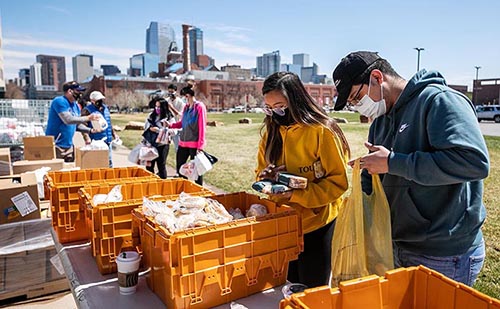 The recognition comes after the release of the CDHE's Hunger Free and Healthy Minds Campus Checklists to encourage the state's postsecondary intuitions of higher education to apply for Hunger Free and Healthy Minds campus designations. This work is part of the department's broader initiative to address social determinants of college students' success in Colorado. MSU Denver and fellow designees Colorado State University, CSU Pueblo and Fort Lewis College used the checklists to reinforce the importance of programs and services for students.
"It's exciting to see campuses stepping up to provide these critical resources to their students and communities," said Gov. Jared Polis in a statement. "I want to challenge our other colleges and universities to follow suit. We need our college communities to break down barriers and stigmas and work to create comprehensive, campuswide efforts to erase hunger and provide mental-health services that our students need."
MSU Denver is ahead of the curve with on-the-ground and digital student services, said Will Simpkins, Ed.D., vice president of Student Affairs. In addition to the Roadrunner Food Pantry, the University offers public-benefits screening and application assistance through the Single-Stop program out of the Student Care Center, critical aid from the Student Emergency Fund and case-management support for students needing assistance overcoming particularly challenging circumstances. Likewise, all MSU Denver students can access clinical mental-health care at the Health Center at Auraria and the Counseling Center at no additional cost.
MSU Denver promotes food-security awareness and collects and reports on student food insecurity, in addition to offering mental-health and general-wellness services and programs. In a statement, the CDHE also applauded MSU Denver's weekly Healthy Pursuits Yoga and Zumba classes that are offered at no additional cost to students, as well as the no-charge nutritional-counseling program that is available to students, faculty and staff at the Health Center of Auraria through a partnership with the University's Department of Nutrition.
"We understand that student success is predicated on many factors," said Braelin Pantel, Ph.D., dean of students and associate vice president for Student Engagement and Wellness. "As such, we take a truly holistic approach to supporting students in navigating the various challenges that they may face."
The state's master plan for higher education, Colorado Rises, calls for 66% of adults to have earned a certificate or degree by 2025. To get there, Colorado must address the barriers to student success, some of which are highlighted above.
Topics: Colorado, Excellence, Student Affairs, Student Success
Edit this page