Early Bird
Director of Diverse Recruitment selected for national diversity council
Cameron Simmons saw a problem as a young man and has spent his life working for equity and inclusion in higher education.
June 22, 2021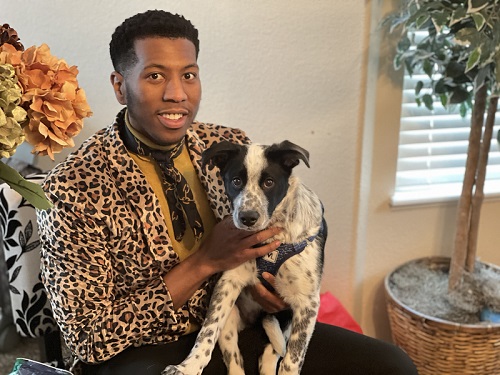 Cameron Simmons, director of Diverse Recruitment at Metropolitan State University of Denver, has been selected for the National Advisory Council at the National Conference on Race and Ethnicity.
NCORE has been exploring ways to evoke change within higher education since its establishment in 1988 and is recognized as the most comprehensive national forum on issues of race and ethnicity in American higher education.
Simmons has been on the front lines of MSU Denver's mission to serve as an anti-racist institution, and his new position with NCORE provides an opportunity for his work to expand at a national level. For the next three years, Simmons will participate in NCORE meetings, conferences and trainings focused on improving racial and ethnic relations within higher education while empowering underrepresented populations.
Simmons spoke with the Early Bird about his NCORE nomination and aspirations for a more equitable future:
What prompted you to apply for NCORE's National Advisory Council?
"I was able to attend the conference a couple of years ago, and it was a life-changing experience. Not only was I exposed to a robust community of diversity champions, but I felt, saw and heard due to seeing other Black males and Black people in general leading workshops, facilitating larger conference dialogues, and there were tailored events for the many communities of people who attended. There was intentional planning around how to make a space inviting for all people, and it was executed with precision and thoughtfulness. From that experience, I knew I needed to get involved on a deeper level to really grow and continue to learn in this ongoing journey of equity, inclusion and diversity."
Where do you believe MSU Denver has room to improve in its mission to become anti-racist?
"MSU Denver is doing great work in the space of anti-racism and makes it a topic that is important in every conversation. I believe that the University not only talks about its (intent) to becoming an anti-racist institution but is also taking steps to achieve the goal. Unfortunately, I think MSU Denver is a microorganism in the larger system. We must take our mission beyond the campus and really start to address the larger system and build coalitions of other institutions seeking to be anti-racist."
You have been a longtime advocate for equity in higher education. Did you always envision yourself in leadership roles?
"Equity in higher education has been a mission of mine since starting college at the University of Denver and experiencing diversity-and-inclusion issues on campus. As a Black male first-generation college student, I never saw representation throughout my entire college career, and it was disheartening as I searched for mentorship and guidance in navigating the space. This reality fueled my passion for being a leader within the higher-education world and working to build a more inclusive and equitable college-going culture for all students, but specifically students of color."
What do you hope to bring back to the MSU Denver community from your time with NCORE?
"I hope to be able to bring back a network of diversity champions whom the University can collaborate with in our endeavors of becoming an anti-racist institution. I also hope to bring MSU Denver to the national scale and provide leadership in thought on how we can best address issues of diversity, equity and inclusion. Additionally, I hope to bring back new ideas, initiatives and trainings that could be utilized throughout campus to further develop our staff, faculty and students."
What are your aspirations?
"Higher education changed my life in many ways and sparked my passion to help others who look like me to also take advantage of the many opportunities that come along with obtaining postsecondary degrees. My future aspirations first lie with building up myself and working to earn a doctoral degree. From there, I do have political aspirations as I believe large-scale change has to occur in the system that created, prolongs and exploits the inequities of its people. I hope to run for a public office and work with the community to really address the injustices of our society."
Topics: Diversity
Edit this page