Early Bird
MSU Denver marks Juneteenth
Learn more about the history of this important federal holiday and attend community celebrations.
June 16, 2021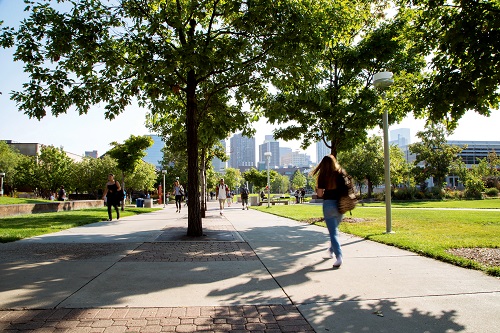 Metropolitan State University of Denver will again observe Juneteenth (June 19), which is now a federal holiday, by encouraging the campus community to learn more about and reflect on this important holiday and moment in history.
In the days surrounding Juneteenth, Roadrunners are invited to engage in activities that expand their awareness and understanding of the holiday and of racial injustice and inequality in hopes of creating a more equitable University community for all. For employees who choose to engage in learning and awareness-building during work hours, there is no need to take action on timesheets or leave reporting.
Juneteenth commemorates the events of June 19, 1865, when approximately 250,000 Black people who remained enslaved in Texas were freed by executive decree. The decree came more than two years after the Emancipation Proclamation took effect nationally, which declared the freedom of all enslaved people in the then-Confederate States. To that point, border states and states that had seceded from the Union had not honored the proclamation, and it was not enforceable in those states until the end of the Civil War. News of emancipation inspired spontaneous celebrations among newly freed people that began the tradition now known as Juneteenth.
Today, Juneteenth is a legal holiday in Texas, and 46 states and the District of Columbia observe it in various capacities. Efforts are building to ensure that the holiday – which is also referred to as Emancipation Day, Freedom Day and Black Independence Day – is federally honored as well.
Juneteenth events in Denver
To learn more about the history and significance of Juneteenth, visit the Center for Multicultural Engagement and Inclusion website.
Topics: Community, Denver, Diversity, Events, Inclusion
Edit this page