Early Bird
MSU Denver faculty in the media
Members share their expertise with the community.
June 15, 2021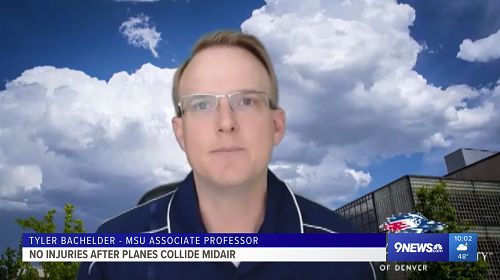 The MSU Denver faculty brain trust reaches almost every point along the academic spectrum, and we are always proud to see Roadrunners sharing their knowledge. Each month, the Early Bird highlights a few faculty members who have served as subject-matter experts on timely news topics, providing dynamic perspectives on critical issues.
Here's a sampling from May:
Tyler Bachelder, M.S., associate professor of Aviation and Aerospace Science, interviewed with 9News, CBS4 and Denver7 about a midair collision that occurred while two aircraft approached Centennial Airport.
Christian Hardigree, J.D., dean of the School of Hospitality, interviewed with Fox31, CBS4 and 850KOA about the changing Covid-19 state mask regulations in hospitality establishments, as well as stimulus packages designed to help local restaurants.
Ben Thompson, Ph.D., professor of Exercise Science, interviewed with Fox31 about how to minimize arm pain after receiving a Covid vaccine shot.
Sarah Jackson Shumate, Ph.D., lecturer of Geography, interviewed with Denver7 about Colorado's Employee Traffic Reduction Program, a controversial plan that would require employers with more than 100 employees to come up with alternatives on how employees get to work.
Rosemarie Allen, Ph.D., associate professor of Early Childhood Education, interviewed with 9News about white-supremacist beliefs and ways the average person can help stop them.
For a full list of faculty members featured as experts in the media, visit MSU Denver in the News.
Topics: Academics, Excellence, Experts in the Media
Edit this page