Early Bird
Safe Return to Campus highlights
COO Larry Sampler shares updated vaccination rates, changes to campus operations and events.
June 14, 2021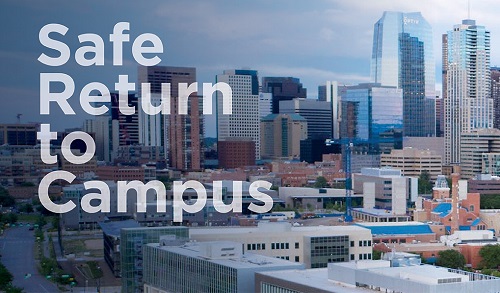 In last week's Safe Return to Campus update, Larry Sampler, chief operating officer and vice president for Administration and Facilities Management, shared several important items.
According to the results of recent vaccination-verification surveys (updated Friday afternoon) distributed to faculty, staff and registered students:
82.3% of registered students who responded are partially or fully vaccinated (with a response rate of 41.5%);
3.3% of registered students who responded intend to be fully vaccinated by the start of the fall semester (with a response rate of 41.5%);
96% of employee respondents are fully or partially vaccinated (with a response rate of 54%).
Additionally, 36,547 unregistered students received the vaccination survey Tuesday. The distribution list included all students who have taken a Metropolitan State University of Denver class over the past three semesters. So far, 485 unregistered students have filled out the form, with 79.8% (387) reporting that they are partially or fully vaccinated and 5.4% (26) saying they intend to be by the start of the fall semester, and another 14.8% (72) have submitted/been granted an exemption. These students will continue to be contacted over the summer.
Please encourage your colleagues and students to complete their surveys as soon as possible.
Building use and signage
The first and second levels of the Jordan Student Success Building have been returned to their pre-Covid-19 seating and study arrangements. Similar work is taking place across a number of University buildings, and MSU Denver continues to work with the Auraria Higher Education Center to finalize a timeline for returning all tri-institutional spaces to their normal configurations and capacities and to update signage.
Other updates
If you missed Wednesday's Managing the Social Stressors Associated With a Return to Campusevent, which featured several campus experts, a recording is available online.
The Denver Department of Public Health and Environment has lifted restrictions for indoor/outdoor events. As a result, the in-person event application will no longer be required.
The Alternative Work Arrangement Policy will be discussed at the University Policy Advisory Council meeting Thursday. Human Resources is also developing a resource guide to aid supervisors in making AWA decisions.
There is a large quantity of hand sanitizer made by the MSU Denver Chemistry Department available for any campus offices or departments. Please contact the Department of Facilities Planning to supply your office.
Information Technology Services continues to work on-site through June and July to facilitate the return to campus, ensuring that IT and computer systems are functioning and repaired quickly. Reference this schedule for more information.
Topics: AHEC, Health, Safety
Edit this page