Early Bird
Safe Return to Campus highlights
COO Larry Sampler shares MSU Denver vaccination rates, addresses vaccine misinformation.
June 1, 2021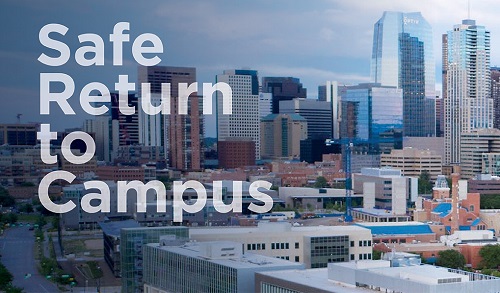 In last week's Safe Return to Campus update, Larry Sampler, chief operating officer and vice president for Administration and Facilities Management, reported that approximately 60% of Metropolitan State University of Denver students are fully vaccinated, compared with 63% of Community College of Denver students and 83% of University of Colorado Denver students.
Sampler encouraged all Roadrunners to complete their first vaccine dose (if opting for a two-dose vaccine) no later than July 1. Students will receive more information vaccination verification and exemption processes today. More information will follow soon for faculty and staff members.
Sampler also pointed Roadrunners to this RED article in which infectious-disease expert Sheryl Zajdowicz, Ph.D., professor and chair of MSU Denver's Department of Biology, addresses myths and misinformation about vaccines.
Required Health Protocols remain in place
As a reminder, all Roadrunners should continue to adhere to MSU Denver's updated Required Health Protocols.
Perform a health assessment daily before coming to campus (see below).

Do not come to campus if you have any symptoms and/or are not feeling well. Consult a medical professional if symptoms persist.

Per updated guidance from the CDC, the Colorado Department of Public Health and Environment and the Denver Department of Public Health and Environment, we have revised our mask and social-distancing protocols:

Masks are no longer required for those fully vaccinated; those who are unvaccinated or partially vaccinated should continue wearing a mask (bandannas and gaiters are not acceptable face coverings).
Social distancing is no longer required.

Wash your hands and/or use hand sanitizer frequently.
Other updates:
The University Policy Advisory Council will review the Alternative Work Arrangements Policy at its June 17 meeting.
The University's general-events application will once again be available after the City and County of Denver has moved to level clear on the Covid-19 dial.
Cleaning and heating, ventilation and air-conditioning practices will remain in alignment with CDC recommendations.
The Jordan Student Success Building's third and fourth floors will be available without restricted access beginning Tuesday.
ID access is once again required for Central Classroom and Boulder Creek.
Starting June 7, the JSSB will be returned to its previous seating and study arrangements.
Plexiglass will be removed in academic spaces, such as classrooms and labs, over the summer.
Please reference the recent Budget Recommendation Committee meeting recap for the latest funding updates, including Higher Education Emergency Relief Funding.
Departments can reference the Information Technology Services support calendar and find workstation support info as they prepare for their return to campus.
Save the Date: An employee-wellness event will be held June 9 from 2 to 3 p.m. More details to come.
Topics: Health, Safety
Edit this page