Early Bird
Kick off summer on the right foot
Make a gift to support student success and receive a pair of limited-edition MSU Denver sandals.
May 19, 2021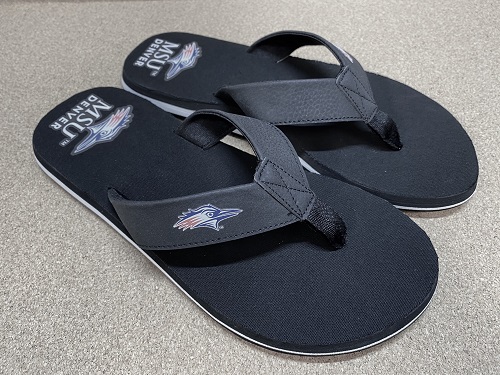 In true Roadrunner fashion, Metropolitan State University of Denver students faced the past year's challenges with courage and persistence, always putting their best foot forward on their zigzaggy path to graduation.
Now through the end of June, when you make a gift of $60 ($35 is tax-deductible) or more to the scholarship or program of your choice, you will receive one pair of limited-edition MSU Denver sandals and the satisfaction that our students will continue to have access to the resources they need to get in step, finish the race and achieve their goal of earning a degree.
Wear your Roadrunner pride from head to toe this summer and get our students one step closer to crossing the finish line and making their dreams come true.
When Roadrunners put their best foot forward, anything is possible.
For more information, contact Bre Milnes, senior director of Advancement Communications.
Topics: Advancement
Edit this page