Early Bird
RoadRUNners Across Colorado: Corner to Corner Challenge
Run, walk, bike or hike any distance to support the Student Emergency Fund.
April 6, 2021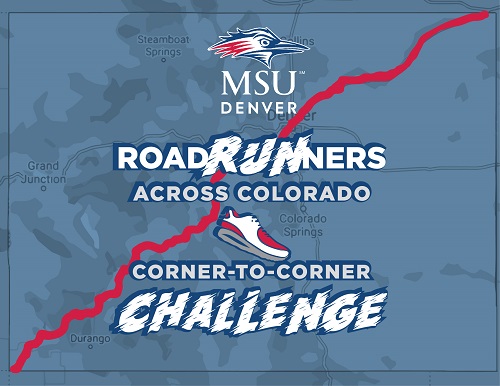 This spring, join Roadrunners worldwide for a trip across Colorado by registering for the RoadRUNners Across Colorado: Corner to Corner Challenge. During the two-day event May 15-16, the Metropolitan State University of Denver community will virtually travel 570 miles across Colorado – from Julesburg to Tawaoc, homes to our most northeastern and southwestern Colorado alumni – while raising funds to support our most vulnerable students.
Register for the event by making a gift of $10, $25, $50 or $100 to the Student Emergency Fund. Each participant receives one entry to participate and a digital race bib; giving levels of $25 and up include exclusive swag. On the weekend of May 15-16, Roadrunners will run, walk, bike or hike any distance they want and log their miles on the official challenge website. Participants who take pictures of themselves in MSU Denver gear while on their excursion and tag @msudenveralumni on social media have a chance to win an alumni-gear prize pack.
Together, we'll get from one corner of Colorado to the opposite corner and ensure that MSU Denver students can continue to reimagine a future where anything is possible.
For more information about RoadRUNners Across Colorado, contact Brandi Rideout, director of Alumni Relations.
Topics: Advancement, Events, Funding
Edit this page