Early Bird
University developing infrastructure strategy
Committee evaluating capital projects on campus and beyond for 2030 Facilities Master Plan
April 5, 2021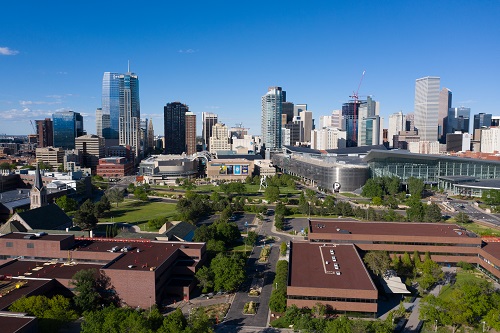 Metropolitan State University of Denver's Infrastructure Strategy Steering Committee kicked off efforts to develop a 2030 Facilities Master Plan this semester, bringing together faculty and staff members representing various infrastructure efforts to ensure that the University's on- and off-campus physical infrastructure will meet current and emerging needs.
The infrastructure strategy will be guided by MSU Denver's academic mission, future enrollment needs and the University's commitment to enhancing our strong sense of community.
At the kickoff meeting, President Janine Davidson, Ph.D., charged the committee with being realistic and creative, pointing out that new leadership at all of the institutions on the Auraria Campus since she arrived presents an opportunity for the campus.
"This is not just a master development process," she said. "This is a strategic process, a decision-framing process and an options-development process. This is the place where all the streams come together. I need the information and the diversity of thought from this group."
With the help of an external advisory group, the steering committee is conducting an analysis of enrollment data and programs with growth potential and taking inventory of Auraria Higher Education Center facilities, space needs, maintenance issues and off-campus programs and ideas.
On Friday, the committee will conduct a workshop to evaluate a number of long-term decisions such as the Health Institute, Classroom to Career Hub, AHEC 3.0 and an expanded presence beyond the Auraria Campus.
The findings of the workshop will shape efforts toward the overall goal of having a 2030 Facilities Master Plan in place by December 2022.
Infrastructure Strategy Steering Committee
Cathy Lucas, vice president of Strategy and External Affairs (co-chair)
Amy Kern, associate professor of Industrial Design (co-chair)
Michael Benitez, vice president for Diversity and Inclusion
Terry Bower, associate vice president of Innovative and Lifelong Learning
Ed Brown, chief of staff
David Fine, general counsel and secretary to Board of Trustees
Matt Griswold, associate vice president of Online Learning
Alfred Tatum, provost and executive vice president of Academic Affairs
Christine Márquez-Hudson, vice president of Advancement and executive director of the Foundation
Jonathan McCann, director of Planning, Design and Construction
Carl Meese, AHEC director of Campus Planning
George Middlemist, associate vice president for Administration/CFO
Sean Petranovich, director of Data and Analytics
Will Simpkins, vice president for Student Affairs
Todd Thurman, director of Athletics
Rebecca Trammell, interim dean of the College of Health and Applied Sciences
Colleen Walker, AHEC CEO
Topics: AHEC, Facilities Planning, Strategic Planning
Edit this page