Early Bird
Get rowdy with the Colorado Rockies
Volunteer for the 50/50 Raffle to raise funds for your campus program.
April 28, 2021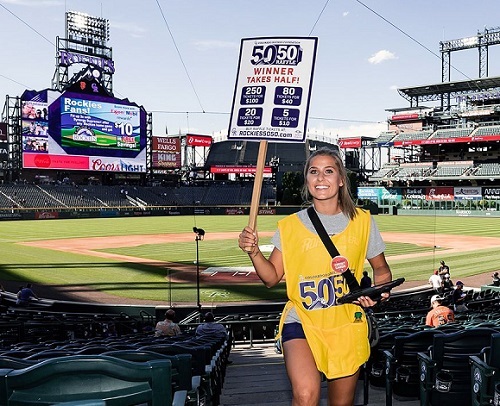 The 2021 baseball season is in full swing, and for the fourth year in a row, the Metropolitan State University of Denver Alumni Association is proud to partner with the Colorado Rockies and the Colorado Rockies Foundation for the Colorado Rockies 50/50 Raffle.
The Alumni Association is seeking volunteers to assist with the 50/50 Raffle at all Rockies home games at Coors Field. During the 2021 season, 20% of all proceeds from raffle-ticket sales will directly benefit MSU Denver students. The amount each volunteer earns for the MSU Denver department or program of their choice is dependent on ticket sales. Each raffle period is one month, and the payout is announced on the last day of the month.
What volunteers can expect on game day:
A six-hour time commitment, depending on the speed of the game.
Selling 50/50 tickets to Rockies fans throughout the stadium.
A game ticket is not required; parking costs $1.
All volunteers will wear a standard-issue Rockies/MSU Denver 50/50 T-shirt and an MSU Denver hat.
Required compliance with MLB/Coors Field/Colorado Rockies Covid-19 health and safety protocols.
Learn more and register to become a Colorado Rockies 50/50 volunteer today!
For more information about becoming a Colorado Rockies 50/50 Raffle volunteer, contact Nicole Thomas, Alumni Relations coordinator.
Topics: Advancement, Community, Funding
Edit this page