Early Bird
TEDx MSU Denver is back Sept. 10
The deadline to submit talk proposals has been extended to May 31.
April 26, 2021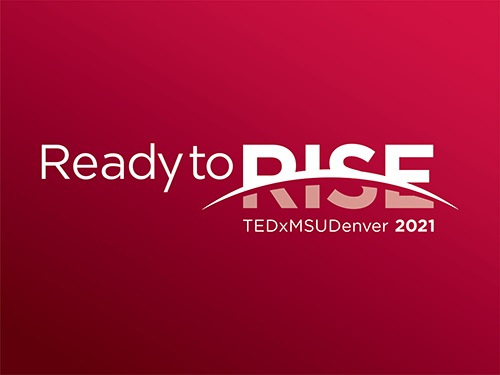 You've always wanted to give a TED talk. Now is your chance to make that possible.
Metropolitan State University of Denver is once again partnering with TEDxCherryCreek to present a daylong TED event that centers on the stories and work of our Roadrunner community. The Sept. 10 event, "Ready to Rise," will feature talks on resilience, renewal and recalibration in the face of a tumultuous year.
University faculty, staff, students and alumni are encouraged to submit a 30-second pitch video for their proposed talk by May 31. The planning committee will review applications and select 12-15 presenters in June.
"This event will bring the Roadrunner community together again after too much time away from campus," said President Janine Davidson, Ph.D. "It's also an opportunity to show the world the quality and caliber of our University. Please submit a proposal and help spread the word!"
Like the 2019 event, the program is expected to be held in person at the King Center but with some portions online as well and will be open to the public. Additional information about tickets will be available this summer.
Below are questions from TEDx to help you think through your pitch. Please remember that all presentations should fit within the event's theme.
Why is this idea important, and to whom?
Who would disagree with you, and why?
What's the big idea behind your new project?
How did you carry out this idea in your own work?
How did you sell that idea to any funders and/or collaborators?
What is a controversy in your field that a general audience would understand?
What is a common misconception you'd love to clear up?
If you have questions about the event or your submission, please contact Michael Jenet, executive producer at TEDxCherryCreek, by email: michael@journeyinstitute.org. To submit your pitch, visit tedxmsudenver.com/2021event/applications.
Topics: TEDxMSU Denver
Edit this page